Photography Jackie NIckerson. Images courtesy of Dior
In the long history of the relationship between the worlds of fashion and fine art, a story that often goes overlooked is that of Monsieur Christian Dior. You, of course, know him for the eponymous Maison he founded in 1947, now one the proudest names in fashion and culture at large. A lesser-known fact about the seminal couturier, however, is that long before his career in fashion, he enjoyed a reputation as one of Paris' most eminent art dealers in the early 1930s. Together with his business partner Pierre Colle, he even presented Alberto Giacometti's first Paris solo show, and, in June 1931, debuted Salvador Dalí's masterpiece The Persistence of Memory (that's right, the one with the melting clocks).
It's a history that is often overshadowed by the legacy of the monolithic Maison he built, but one person who committed to paying homage to Monsieur Dior's illustrious relationship with the world of fine art is Kim Jones, the Maison's Artistic Director of Men's Collections. Since taking up the helm in 2018, a cornerstone of his tenure has been a series of artist collaborations, which has brought everyone from Japanese illustrator Hajime Sorayama to Scottish painter Peter Doig into the ateliers at 30 Avenue Montaigne.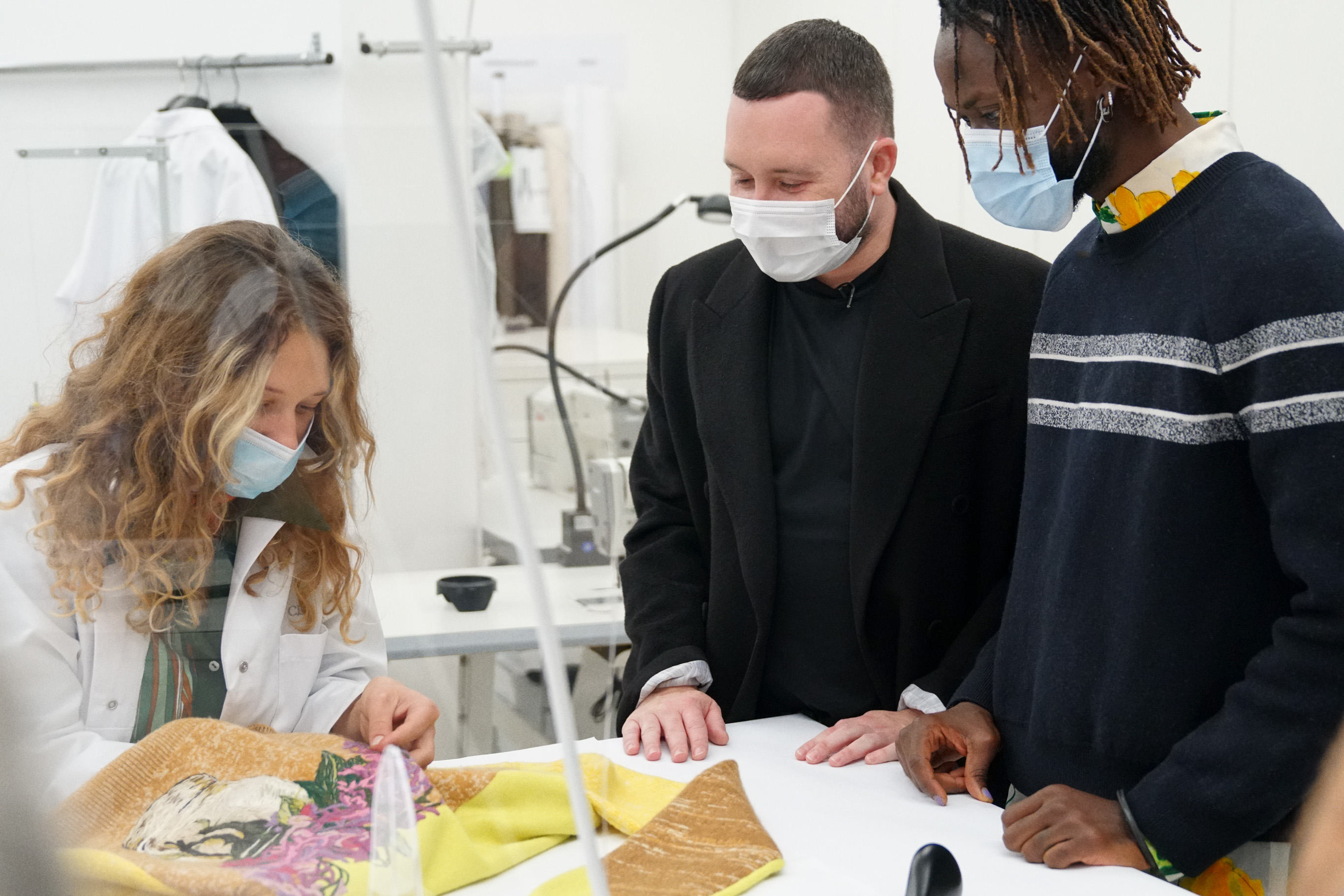 Photography Alfredo Piola. Image courtesy of Dior
For the House's Summer 2021 collection, Kim extended the invitation to Ghanaian figurative painter Amoako Boafo. First meeting during Art Basel Miami Beach in 2019, Kim was immediately struck by the powerful presence of the figures in the artist's bright portraits. Back in Paris, the designer sought to "recreate these characters and the strength of each personality in the work," he told us last summer.
In a new video, debuted here on i-D, we get a glimpse into how that desire was brought to life, following Amoako on a visit to the house's storied ateliers. "I myself, I cannot really duplicate another painting of mine," he says, "so I was curious to see" how vivid brushstrokes are translated to delicate hand embroideries; how a figure's silhouette is rendered in cashmere applique, or how an ivy pattern becomes a subtly shimmering print. In the endless debate around whether or not fashion can be classified as a fine art discipline, these are pieces that proclaim that it damn well is.