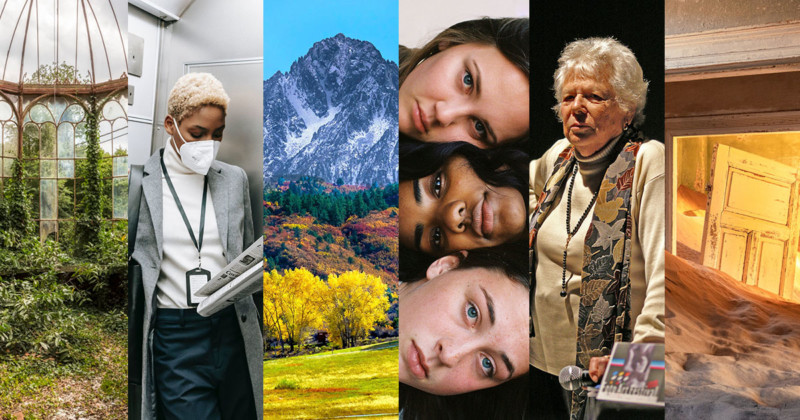 Every Sunday, we bring together a collection of easy-reading articles from analytical to how-to to photo-features in no particular order that did not make our regular daily coverage. Enjoy!
---
Naomi Rosenblum, Historian of Photography, Dies at 96 – Artcasso
Dr. Naomi Rosenblum, who was the first woman ever to earn a doctorate in photography, died on February 19 at her home in Long Island City, Queens, at age 96.
"Histories of photography traditionally focused on England, France, and the United States," writes The New York Times. "But Dr. Rosenblum's major contribution, A World History of Photography (1984), provided a true global perspective. The book was translated into several languages and remains a standard text in the field."
Dr. Rosenblum also cast the spotlight on women photographers with her A History of Women Photographers (1994). She curated the first major exhibition of women's photography as fine art in 1996 at the New York Public Library.
---
Miles Aldridge Shares the Memories Behind Some of His Iconic Photos – Interview
Miles Aldridge originally wanted to be a film director. Today, at age 55, he has had a full career and probably taken many photos that look straight out of a Hollywood film.
His film noir and pop culture references in his highly stylized imagery quickly catapulted him into prominence in the mid-nineties.
The Harrowing Tales of Travelling with Film: In 2007, Aldridge was flown over to photograph fashion designer Donatella Versace at her Lake Cuomo, Italy house. On the way back at Milan airport, he takes out a zip-lock of 20 exposed rolls. He always says "Look, do you mind not X-raying this film because it might damage the film?" And, mostly, nine times out of 10, they would say, "Yeah, sure, let me just check it." This guy was kind of a jerk, and he said, "Listen, this is photographs of Donatella Versace," and he looked at Aldridge like, "You think I give a f*%$ about Donatella Versace?"
---
A Photographer Tells her Family's Story About the Dark Side of an American Dream – CNN Style
Diana Markosian is a photographer and video storyteller who also holds a Master of Science from Columbia University in NY. Her work, which has been featured in National Geographic, The New Yorker, and The New York Times, is both conceptual and documentary.
Markosian's life from age seven has been a real-life soap opera. Her mother woke her up at their Russian house in the middle of the night and told her to pack up her important things as they were going to see America.
"Only when Ms. Markosian was 27 did her mother reveal to her the full story …" reveals The New York Times. "She had enrolled with an agency in Russia that posted listings in American newspapers and catalogs for so-called mail-order brides."
Now Markosian is telling that story in her debut book, Santa Barbara. The series recreates the story of Markosian's family's journey from post-Soviet Russia to the U.S. in the 1990s.
A solo exhibition of the same name will run at the San Francisco Museum of Modern Art from summer-fall 2021.
---
The Photos That Made David Bowie an Icon – BBC
In 2002, Markus Klinko created stunning images (above) of Bowie with wild wolves for a GQ magazine shoot. This was a composite that Klinko created as Bowie was unable to attend the shoot.
David Bowie knew the power of photography and harnessed it to propel his image. The recently published David Bowie: Icon shows the work of 25 photographers from around the world who have contributed to recording his life and times.
---
The Camera was Photographer Gordon Parks' Weapon of Choice – The Museum of Modern Art
Sarah Meister is a curator in the Department of Photography at MoMA and soon to be executive director of Aperture. Here she looks at images from Gordon Parks' 1957 photo essay "The Atmosphere of Crime" (1957) and is moved by the power (and, sadly, continued relevance) of his ability to confront "the great social evils of his time" with an "incredible artistic sensibility."
---
Local Photographer's Image of Mount Sneffels to Grace Colorado Drivers' Licenses – Post Independent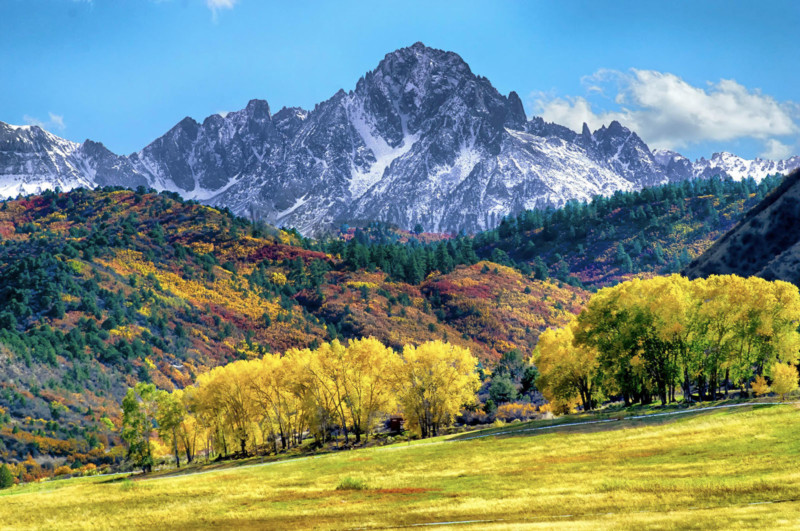 Photographer Matt Nunez of Glenwood Springs, Colorado, will have his photo of Mount Sneffels featured on the new Colorado driver's licenses.
Nunez won a contest to create a license that could be called the "most beautiful in the world" to celebrate the state centennial.
"I started taking photos for my high school newspaper in 2010," Nunez tells PetaPixel. "To this day, that remains the only formal photography education I've received. I started by taking photos at my school's sports games, and when I returned to Colorado after college in 2016, I got into landscapes and began studying the craft more on my own."
---
Will Posting Memes or Pro Wedding Pics Land You in Copyright Small Claims Court? – NPR
Last December, Congress passed the CASE Act. The Copyright Alternative in Small-Claims Enforcement Act of 2019 (the CASE Act) is a United States law that establishes a small claims court-type system within the United States Copyright Office for copyright owners to seek damages under US$30,000 for copyright violations.
Photographers have found that copyright infringement is expensive and time-consuming as it has to be pursued in federal courts. The internet has made sharing of work much easier, resulting in a steep increase in images being shared and used illegally.
The idea is for photographers and other creators to be able to sue, quickly and easily, violators who have used their creative work illegally.
---
Mexican Artist Graciela Iturbide Receives Outstanding Contribution to Photography – Digital Camera World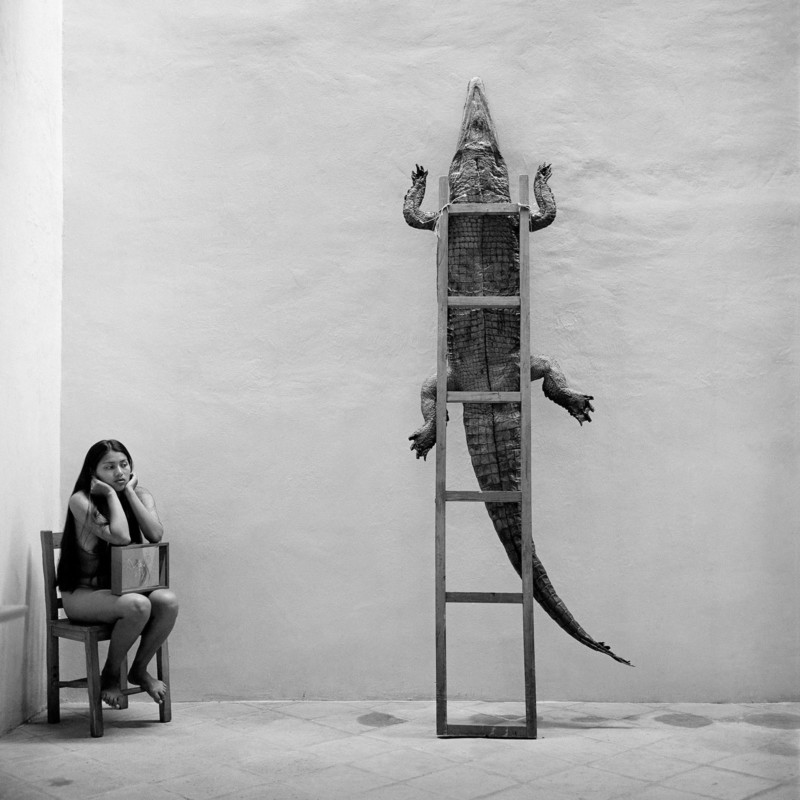 The World Photography Organization has honored Mexican photographic artist Graciela Iturbide with the Outstanding Contribution to Photography Award as part of the Sony World Photography Awards 2021.
Graciela Iturbide was born in 1942 in Mexico City, Mexico. Her photographs go beyond straight documentary narratives and aim to provide a poetic vision of their subjects informed by the photographer's personal experiences and journey.
In 1969, at the age of 27 and a mother of three, she decided to pursue her artistic passions and enroll in the Film Center of the Universidad Nacional Autónoma de México. While studying with modernist master and subsequent mentor Manuel Álvarez Bravo, she decided to turn her attention towards photography.
Twenty-five images from Iturbide's work will be presented in a virtual exhibition from April 15 and available to view via the World Photography Organization's website. The selection, made by the artist, highlights significant subjects from her five-decade career, including three of her iconic images seen here.
---
One Year Later: America's Pandemic Toll (in Photos) — U.S. News & World Report
A year into the pandemic, America has surpassed a horrifying milestone of 500,000 deaths from COVID-19. As the year unfolded, Associated Press photographers formed a pictorial record of suffering, emotion, and resilience. The photographs show the year that changed America.
---
International Women's Day Around the World – in Pictures  — The Guardian
Last Monday, March 8, was International Women's Day. This is a global day celebrating the social, economic, cultural, and political achievements of women. The day also marks a call to action for accelerating gender parity.
The Guardian takes you worldwide to witness as groups come together to celebrate women's achievements or rally for women's equality.
---
American Icon Annie Leibovitz: Here's What You Need to Know – The Collector
I don't know what to say about Annie Leibovitz, but then again, she needs no description.
Quiz: At what age did Leibovitz get a job at Rolling Stone magazine as a photographer?
Answer: 21
---
Stunning Photos Highlight the Peculiar Beauty of Ghost Towns Around the World – My Modern Met
Photographer James Kerwin from Norwich, England, is attracted to neglected structures and ruins in remote parts of the world. His latest series is the Uninhabited 2019-2024. His most popular project to date is Lebanon: A Paradise Lost, on which a book is due to be released in October.
"Some of these towns are extremely difficult to reach, in remote locations; others are more known – such as Pripyat in Ukraine," Kerwin explains to PetaPixel. "But the travel is always the fun part of the adventure, getting to these odd areas of the world – deserts and spaces that are unusual.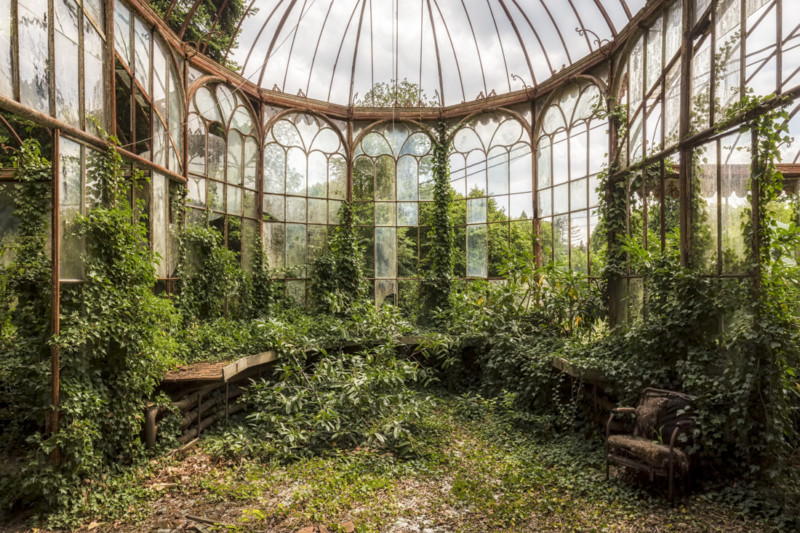 "I drew up a map of locations around the world, and I decided I would visit as many of them as possible. I wanted a variety of locations in the final series and one or two on every continent."
---
Should You Use sRGB in Photography? (vs RGB & Adobe RGB) – Shotkit
Should you use RGB, sRGB, Adobe RGB 1998, ProPhoto RGB, or something else? What are the pros and cons of each color space? Do you use one online and the other for printing on your home printer? What if you are sending it to an online lab? Answers at the link above.
---
La-la Land: the Playful Side of Los Angeles – in Pictures – The Guardian
Photographer Gary Krueger believes he lived through a "golden age" in the 1970s and 80s Los Angeles. City of Angels, 1971-1980, is a collection of sometimes frenetic and often bizarre photographs of Los Angeles, California. Krueger created a unique body of street photography that he describes as "split-second juxtapositions in life."
City of Angels, 1971-1980 is at Joseph Bellows Gallery, Los Angeles, until 19 March
---
The Fluctuating Truth of Documentary Images – Hyperallergic
Can photographs be fortified with words, as Dorothea Lange claimed? Or can they be made to mislead with captions that are inaccurate, erroneous, or even false?
Lange's Migrant Mother has numerous controversies, and many are about the captioning that Lange used when she submitted the photos.
---
Pete Turner (1934-2017) IN HIS OWN WORDS on his famous image Push (1970).
"After finishing an assignment in the Miami area, I decided to take a vacation and drive to the west coast of Florida. When I arrived, I checked in a nearby motel and headed for the pool. It was a sunny day, and I stretched under an umbrella without a care in the world. However, one thing was catching my eye, and that was a bright trash can against a drab cinder block wall. It was yellow with a red top and very new. I couldn't help thinking it would make a good picture, but not against that wall. The wall was to my left, and to my right was sand and the Gulf of Mexico with vivid blue water and sky. It didn't take long for me to decide to drag that trash can across the beach and next to the water.
By this time, a few people were wondering what I was up to, and in a way, I was too. Against the sky and water, the red and yellow colors were a great fit, and I knew I had an exciting still life. I raced back to my room for my camera, and when I returned, the perspective got me even more excited. It was a perfect day, and the blue sky seemed to go on forever.
I used a wide angle lens and played with the composition. I tried the top of the can going through the horizon, but right away, I wanted everything to line everything up. The red top lined up with the blue horizon, and that's where it stayed. I tried many variations, and nothing worked as well as this.
Eric Meola, who from 1969-70 worked with mentor Pete Turner as his studio manager, adds:
It's not often that a photograph announces its title right in the image, like Pete Turner's photograph of a bright red and yellow trash can on a beach in Florida. I love this image because it's a photograph of a subject that's normally mundane, and yet Turner set it against a cobalt blue sky and turned it into an exercise in primary colors that pop off the screen. The empty space above adds to the tension through the graphic use of "negative" space.  And look at that horizon line, where the water meets the top of the "nose cone" in symmetrical perfection…three, two, one, liftoff!  An ice cream cone of color from the eye of a master.
If there's one thing I learned above everything else from Pete, it was to immediately react to your instinct to photograph something and not be fooled into thinking you can come back the next day. The light will change, the mood will change, and the weather will change.  It will never be the same! You react to light and to color and to mood, and that reaction is what spawns creativity as well as the image itself.
A pioneer of color photography, Pete Turner's (see 30 classic color photos here) career began during the infancy of color photography, at a time when color was used almost exclusively for commercial purposes. Unconcerned with the labels of "art" or "commercial," he has deftly created a life's work that blurs these boundaries. Over the years, he has continued to push the medium of photography by employing an impeccable sense of timing and a long-running fascination with geometry and surrealism.  – Sean Corcoran, assistant curator of Photographs. From the introduction Pete Turner: Empowered by Color, George Eastman House.
Check out:
Pete Turner, Color Photography Icon, Dies at 83
---
Quote of the Week (or a Previous Week)
This website is a work of fiction, entirely the product of my own imagination and personal opinion. To use words of Ansel Adams on page 193 of his autobiography, this site is my 'aggressive personal opinion,' and not a 'logical presentation of fact.' – Ken Rockwell
---
To see an archive of past issues of Great Reads in Photography, click here.
---
We welcome comments as well as suggestions. As we cannot possibly cover each and every source, if you see something interesting in your reading or local newspaper anywhere in the world, kindly forward the link to us here. ALL messages will be personally acknowledged.
---
About the author: Phil Mistry is a photographer and teacher based in Atlanta, GA. He started one of the first digital camera classes in New York City at The International Center of Photography in the 90s. He was the director and teacher for Sony/Popular Photography magazine's Digital Days Workshops. You can reach him via email here.
---
Image credits: All photographs as credited and used with permission from the photographers or agencies.