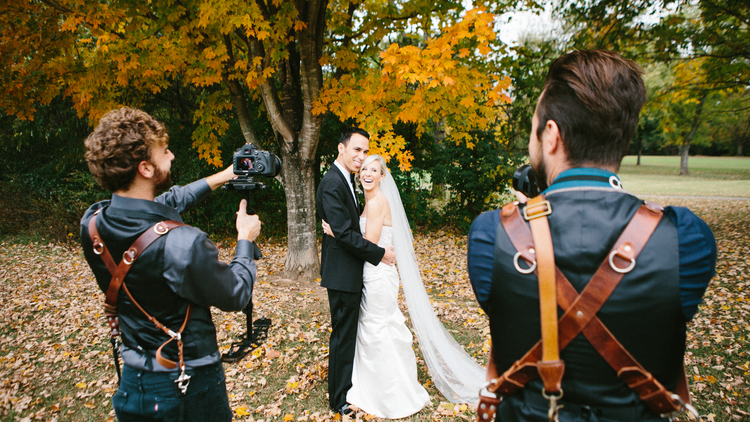 We assume that your wedding day will seem like a brief moment. So many and so many preparations to finally have the feeling that everything happened so quickly. That is why it is essential to capture those moments, those details that most people went unnoticed. But above all, not to give up the possibility of remembering all the emotions you and your loved ones had that day.
All can be good reasons that compel us to keep these memories. Indeed, the first place in this type of hiring is usually for wedding photography. Still, the possibility of creating a more dynamic report, where movement and sound give a particular plus to your wedding report, is also complementary to photography.
Many do not know how important it is to have a perfect photographer for your wedding; many details must be taken care of because those moments will be treasured for years. It will be that CD or USB memory that will preserve the memories of your wedding. So the result must be perfect, make sure your supplier is trustworthy and has a portfolio that you like, a good recommendation is always the best option. The rest is to have a little chat where you solve some basic questions.
The first thing you have to consider is to learn that there are as many styles as professionals available. Starting from the premise that nowadays, the audiovisual world's boom has become an essential part of communication, a sector professional needs a minimum of knowledge and a defined style as it happens with photography.
From here, if you look, you will find a wide variety of styles; documentary approach, where you capture what happens, others closer to the cinematographic where everything is more prepared to achieve the desired end result, or even some with aesthetics of the best wedding videography.
If you have it clear, you should look for the cameraman that suits your style; if the professional does not contemplate it, there is no doubt it is not an option for you.
Remember that within the package to negotiate, you must have contemplated the pre-wedding photoshoot (casual), the formal wedding photos, the entire event in photo and wedding videography, the dressing room the morning or afternoon of the wedding, and if you wish, a mini trailer of the summary of the wedding to share with your guests on social networks and a Trash The Dress photoshoot.
Reviewing their work will let you know if that professional has the proper knowledge and taste to carry out your wedding videography. Evaluate their style, their editing, their framing, their effects, and their skills and good taste to tell the story of your wedding day.
Another point to which I advise you to dedicate some time is to contrast the videographer's professionalism. A simple look at the internet can offer us a good handful of opinions and references about him. In this sector, it is widespread to have them suspicious if you do not find them. This way, we can see if customers are satisfied with his creations, if he meets delivery times, if he is professional in his work, etc. It is always possible to ask for references from some of the suppliers of your wedding or even to the photographer since they will work side by side and they may know him from other works in which they have coincided.
Tell him/her at all times what you like and what you don't like. What moments of the wedding are most important to you, the music that you would like to accompany it; although it can be a suggestion, on many occasions, the pieces of music are selected by the videographers to maintain the coherent rhythm of the work and thus not lose quality;, as well as your tastes for specific final results.
It is also essential that you let the professional work and trust his professional criteria; if he has taken the time to get to know you and your tastes, have no doubt that he will meet your expectations.