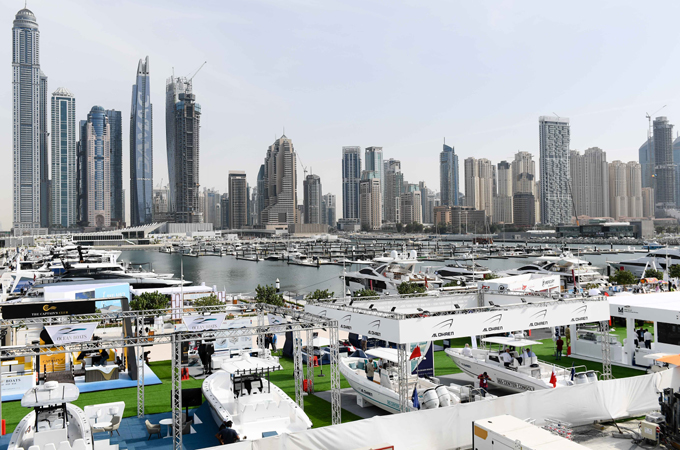 Dubai, a city etched with the grandeur of human ambition, has always been renowned for its relentless pursuit of luxury and innovation. Nestled amidst its shimmering skyscrapers and undulating desert, you'll find an array of stunning marinas, each of which is fewer docking points for yachts and boats and more lifestyle destinations, offering a magnificent blend of leisure, dining, and entertainment facilities.
Read on for our top selection of marinas in Dubai.
Dubai Marina: The Heart of Luxury
Perhaps the most emblematic of Dubai's many marinas, Dubai Marina, often referred to as a 'city-within-a-city', is a testament to the city's unyielding ambition. This affluent residential neighbourhood, known for its captivating skyline teeming with skyscrapers, boasts a staggering array of luxurious yachts and an equally impressive 7km Marina Walk lined with various retail outlets and gourmet dining options. The buzzing promenade, set against modern architecture and turquoise waters, is a magnet for locals and tourists alike.
Jumeirah Beach Residence Marina: Beachside Bliss
Located adjacent to Dubai Marina is the Jumeirah Beach Residence (JBR) Marina. Offering a unique blend of city and beach life, the marina presents an opportunity to enjoy an unmatched nautical lifestyle.
The stunning views of the Arabian Gulf and the pristine sandy beaches that hug the marina make it an excellent spot for leisurely strolls, sunset cruises, and waterfront dining. Its proximity to the buzzing The Walk at JBR ensures a vibrant nightlife and a variety of dining options.
Nakheel Marinas: Setting the Bar High
One of the world's leading developers, Nakheel has etched its mark on Dubai's maritime landscape through its Nakheel Marinas on the iconic Palm Jumeirah. Each marina is a testimony to Nakheel's unwavering commitment to luxury and innovation.
Nakheel Marinas sets an exceptionally high bar for marinas in Dubai by providing luxury yacht services and world-class maritime facilities. Palm Marina East and Palm Marina West, seamlessly connected by a club car service, can accommodate vessels up to 40 metres in length. With multiple access points, personalised services, and unlimited access, they redefine the concept of luxury yachting.
Port Rashid Marina: A Historic Landmark
Named after Sheikh Rashid bin Saeed Al Maktoum, the father of modern Dubai, Port Rashid Marina is one of the city's oldest and most historic marinas. Retaining its nostalgic charm, it's a bustling hub of activity that comfortably accommodates a range of vessels, from traditional dhows to luxury yachts. This marina is a testament to Dubai's rich maritime heritage and seamless integration with modern naval trends.
A Nautical Experience Like No Other
The marinas of Dubai offer a luxurious fusion of convenience and world-class services. They are destinations that cater to yacht owners looking for state-of-the-art facilities and tourists seeking unique maritime experiences.
With a commitment to excellence and continuous innovation, Dubai's marinas are set to redefine the marine industry in Dubai and beyond. These spectacular marinas encapsulate the spirit of Dubai – an unyielding ambition to transform visions into reality, one where the horizon is not a limit but a mere starting point.