MAINSITE Contemporary Art will host an opening reception for "The Left Hand of Liminality," an art collaboration from artists Denise Duong and Gabriel Friedman, on May 14 as a part of the the first in-person 2nd Friday Art Walk since the pandemic began. 
The exhibit will open in conjunction with the art walk and will be the first in-person opening event held by MAINSITE since February 2020, according to a tweet from the Norman Arts Council. Duong and Friedman's exhibition will run through July 9 and features works inspired by the tumultuous feelings surrounding the pandemic, according to the Norman Arts Council website. 
In addition to the MAINSITE exhibit, the art walk will feature the grand opening of the Oscillator Press — a print shop that offers custom screen printing and design services, according to the Norman Transcript. 
Duong is a Vietnamese American artist from Oklahoma City who, according to the arts council, attributes her curiosity and artistic inspiration to growing up in an immigrant family. As a painter and muralist, she specializes in acrylic paints, watercolor and ink. 
Friedman, who specializes in 3D art, photography and sculpting, according to the arts council, said "The Left Hand of Liminality" focuses on the central theme of trying to grasp the "curveball" of your "inner trouble maker" during uncertain times.
"In places of transition, it seems like, that's when some of the best ideas and the best creation happens," Friedman said.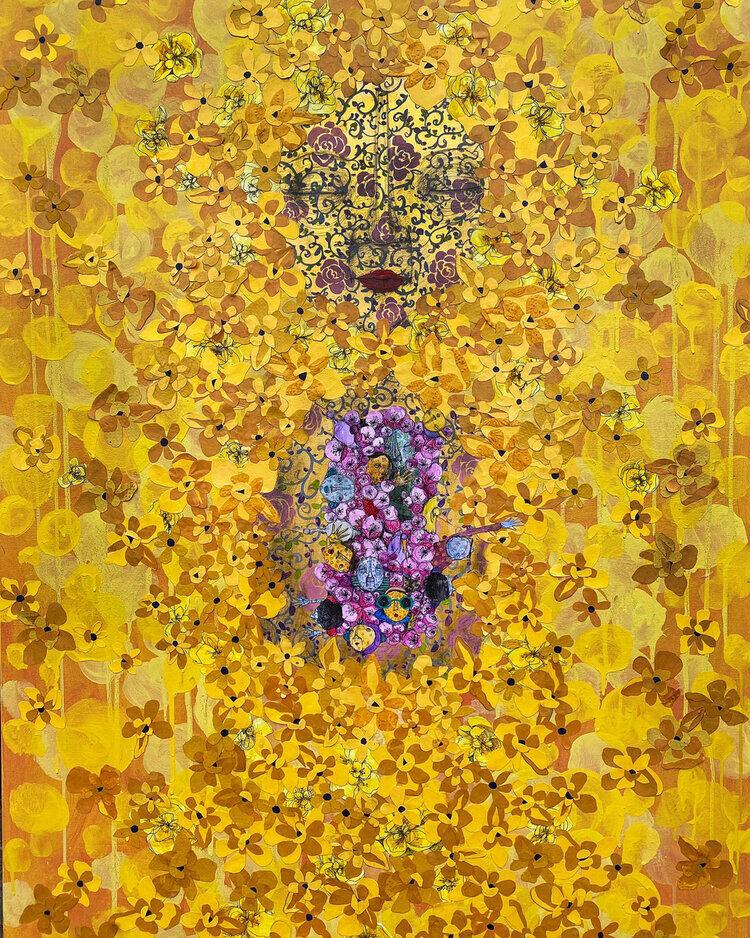 Friedman said his partnership with Duong is extremely fulfilling and that working with his significant other has been a "dream come true."
The two artists originally met and began dating when they were 16 years old. Friedman said life's challenges pulled them apart in their early 20s, but 17 years later, as luck would have it, they were reunited. 
Friedman said one of his and Duong's first dates following their reunion was their proposal for an art installation at Scissortail Park. That project proposal eventually became a permanent installation in 2020. "The Unexpected Us," is a woven willow stick structure in the shape of a bird, according to Visit OKC. 
The couple recently welcomed a baby girl, Francesca, and Friedman said it has been a challenge for him and Duong to manage their projects with the chaos that comes with raising a newborn. Friedman said he wanted a space where he and Duong could continue to create, so he made use of their spare garage. 
"As soon as we found out that Denise was pregnant, I took it on as a project and gut the whole thing (garage) and made an art studio for us," Friedman said. "So we have this large, about 80-square-foot, big, open, airy space to work together."
In addition to balancing their collaborative art projects and raising their now 5-month-old daughter, Friedman said Duong also has her own gallery — Little D Gallery — in the Paseo District of Oklahoma City. 
The opening reception for "The Left Hand of Liminality" will be from 6-10 p.m. on May 14 at MAINSITE Contemporary Art, 122 E Main St. Friedman said the event will also feature live music from harpist Hannah Helbig.
Friedman said he's looking forward to the reception and hopes the in-person art event will allow creatives, who he said are usually solitary people, to get back out in the world and start connecting with each other again. 
"Art shows and art education spaces are where artists see each other and see the collectors and see that people appreciate it," Friedman said. "That just hasn't been the case for over a year now, so it's very exciting for the world to be slightly getting back to normal for all people, but especially people that are artists and performing artists and creatives."