A fine line exists between documentary photography and fine art photography. To elevate straight photography, with little manipulation, to a form that reverberates with a consistent, ethereal aesthetic can have a lot to do with the angle one is shooting from, the available light, and the context, or space, where one is photographing.
As abstract and ephemeral as local photographer Kate Joyce's images in the series Metaphysics appear, they're not obscure or deceptive. They are, essentially, straight shots taken from a singular perspective. For this body of work, the confined space of an airplane's window seat was a constraint on her movements, and the surrounding seats a constraint on her line of sight, narrowing her focus to the space between the window and curvilinear structure of an airplane's interior and the rows of seats in front of her.
Metaphysics, which is on view at SITE Santa Fe through April 22, is the culmination of seven years of photographing airplane interiors from what became, in essence, an in-flight studio, however limited.
"I was very determined about getting the window seat," says Joyce, who created the body of work on routine commercial flights between 2012 and 2019. "If I didn't get it assigned, I would ask somebody if they would switch with me."
You might catch a glimpse of a human element in some of these photographs: a woman's platinum hair falling in curls across her shoulder, the purple fabric draped across an arm bent at the elbow. But you can't see faces.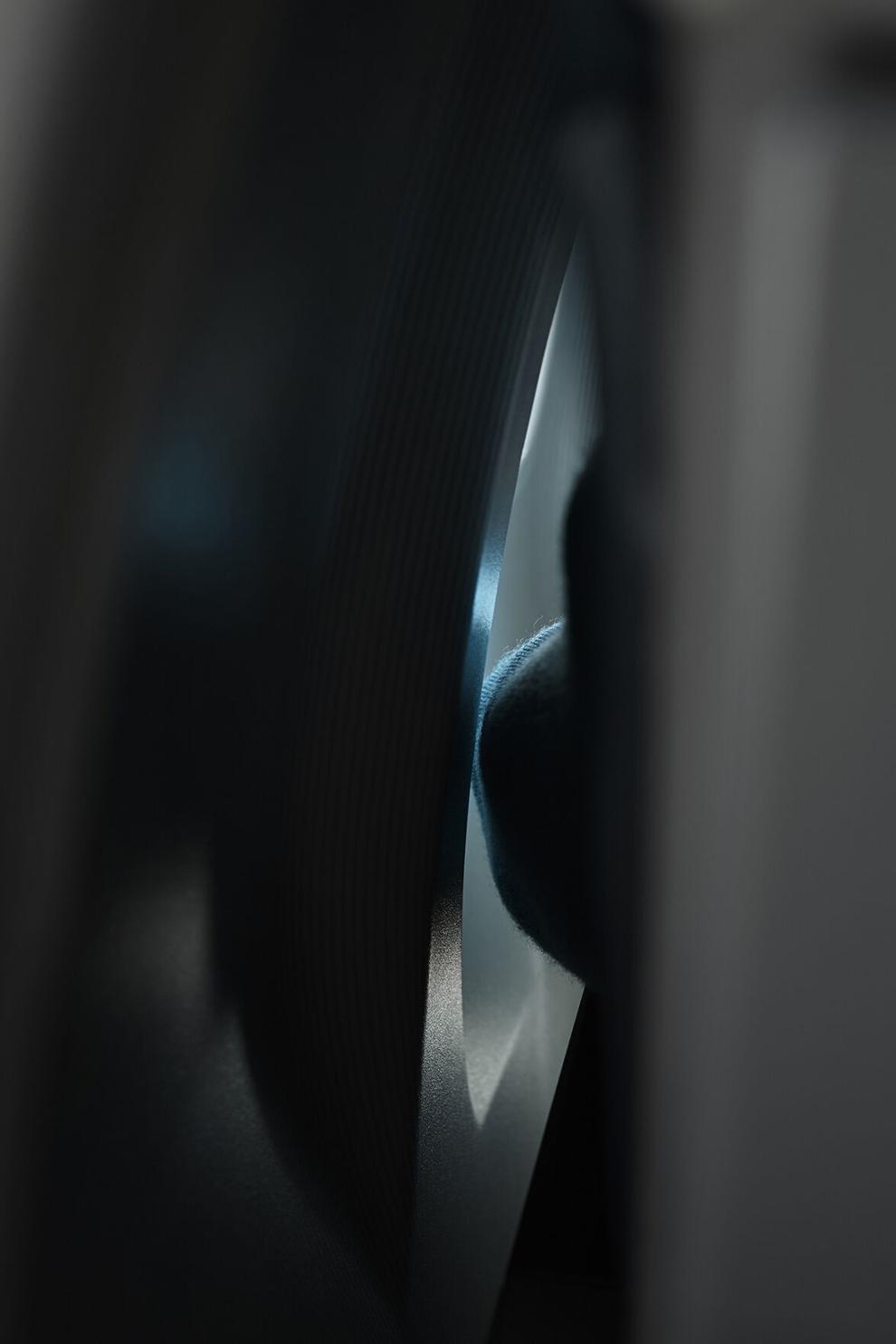 Oddly, perhaps, it's an experience that's as isolating as it is intimate. To be so close to others for hours on end yet remain a stranger.
"That's where this existential title, it being Metaphysics, comes from," says Joyce, who's in her early 40s. "It's the intimacy in a space where we are not supposed to pay attention to how close our proximity is, and it's this cheating of our nature, just by virtue of these aerodynamics and mechanics of flying in the first place. For me, it touches on the material and the spiritual."
There's a quietude in these images, a hushed silence suggested by their enveloping darkness, which is broken only by the sliver, like the pupil of a cat's eye or the reflection on a narrow knife blade, of light-filled space. That sliver is a consistent motif, because it's what Joyce could see with her camera from the confines of her seat.
"The light has this particular quality," she says. "As we know, the interior of an airplane cabin is kind of unsavory. The lighting for the most part is pretty terrible. And it's sterile. I found that in that space between the seat and the window, there's such a high contrast between the sunlight from outside to inside. But it erases, through exposure, the rest of the cabin. That's where we get these really dark shadows because I'm just exposing from the sun."
Joyce, who's from Santa Fe, spent more than 25 years as a photographer. She studied photojournalism at San Francisco State University and documentary photography at the Center for Documentary Studies at Duke University in Durham, North Carolina. Her photography appears in several books, including Through the Lens: Creating Santa Fe (Museum of New Mexico Press, 268 pages, 2009), which was co-edited by Mary Anne Redding and Krista Elrick, and author Michael Petry's Nature Morte: Contemporary Artists Reinvigorate the Still-Life Tradition (Thames & Hudson, 288 pages, 2016). Most recently, she created Metamorphoses (Special Problems Press, 672 pages, 2021, $20), a collection of photographs made in Chile while Joyce was traveling alone as a teenager. After 20 years, she found an affinity between the photographs and the work of the Roman poet Ovid, who lived during the reign of emperor Augustus and whose most famous work is Metamorphoses, a continuous mythological narrative written in the meter of classical epic poetry.
Accompanying the photographs are lines from Ovid, translated from Latin by Andrew Berns.
On Friday, March 11, Joyce signs copies of the book at SITE Santa Fe, where she'll be joined by Berns and local DJ and co-owner of REMIX Audio Bar Justin Ray for a multimedia presentation of Metamorphoses. The event includes a presentation of Joyce's photographs, a soundscape created by Ray, and stories from the book.
Unlike the varied black-and-white photographs in Metamorphoses, much of which is akin to street photography, the images in Metaphysics are more like a typology. That is to say, it's a body of work developed on a consistent subject — the view from the airplane seat — and all variations consist in the differences between the qualities of light, the colors, contrasts, and textures.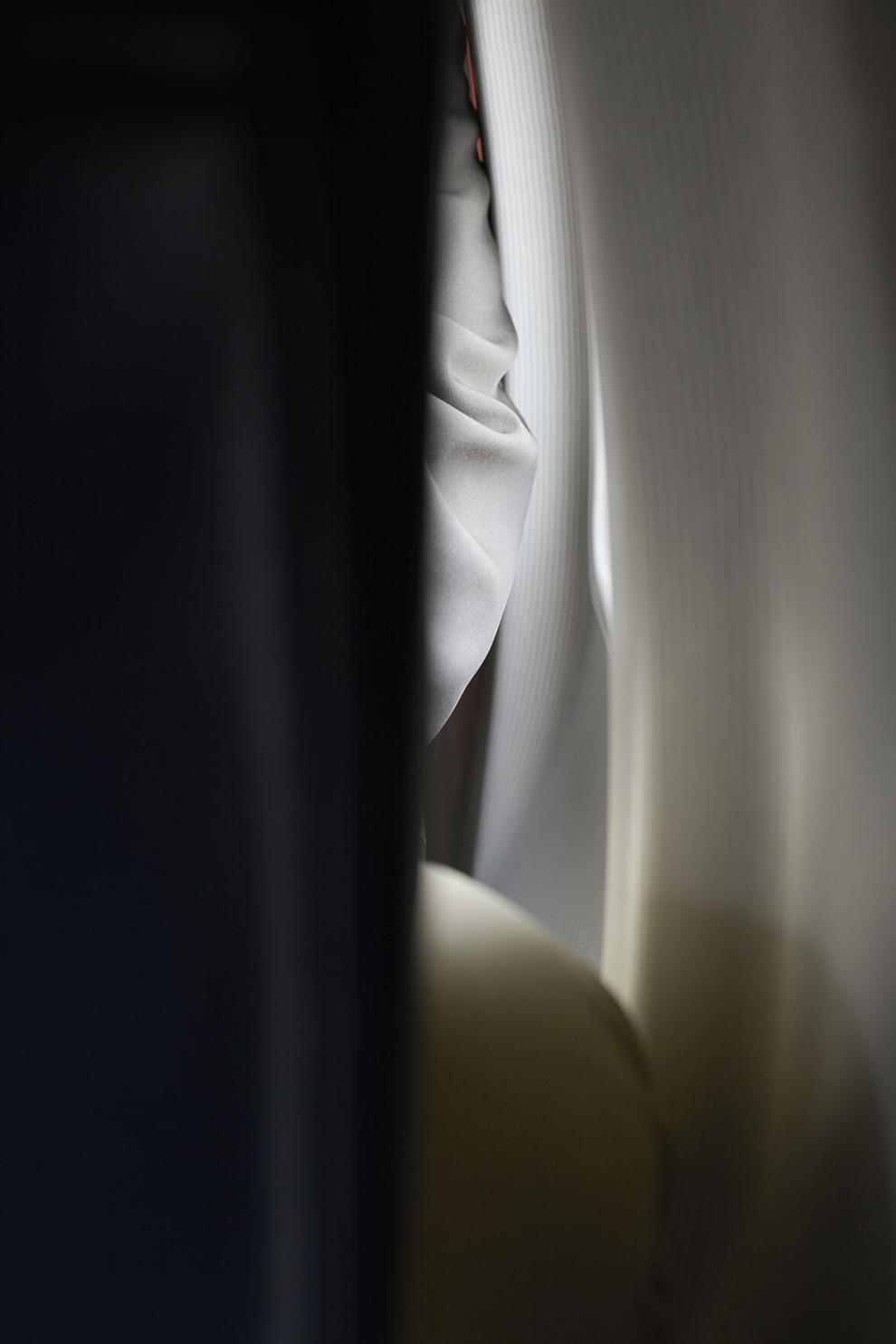 "Regardless of whether I was flying from Chicago or São Paulo, there was something extremely engaging on the flight itself that was such a surprise. I was thinking about two types of photographers. From this period, from 2012 to 2019, I was sort of in between being more of a documentarian street photographer and then working for a photography studio in Chicago, where everything was much more controlled. The window seat, for me, became a combination of both."
Initially, Joyce was interested in the views from the airplanes' windows before turning her camera to their interiors. To shoot in a sterile environment, where not much of anything exciting happens until the pilot announces a descent or an attendant comes by with refreshments, meant capturing small moments gleaned through that narrow gap to the rows ahead.
And they are subtle, calling our attention to contrasts of light and shadow, glimpses of colored, cloth-wrapped arms and shoulders, the curvilinear sweep of a window's plastic frame and the airplane's curved hull. Without introducing any post-shot distortion, she finds an abstract, impressionistic quality that's almost dreamlike in its beauty.
"Prior to this, I had been chartering airplanes. I was interested in the Midwest in particular and this landscape as the snowmelt is becoming water on the surface of the Earth and the sunlight reflecting in that water. It was a failed project. But I feel like the essence of it arrived in these photographs."
Her early idea, she says, was to look at the ground in order to see the sky or the sun by way of reflections. Turning the camera inward, the idea was about capturing the light bouncing off of people and interiors.
"I feel like it saves me from an otherwise bleak experience," she says. "They remind me of Caravaggio. I'm using that window light and high contrast more like in a painting than a photograph."
Yet, the light, as the camera sees it, is manipulative. We don't see an airplane's interior with the same degree of high contrast for instance, as though we were in a darkened room looking through veils of translucent fabric, softening all but a single unobstructed shard. That touches on a limitation of the medium of photography, which Joyce exploits.
"I'm working with a digital camera but exposing as though it was film. I don't have as much leeway with my exposure. It's as real as it gets, but it's also unrealistic."