Every Sunday, we bring together a collection of easy-reading articles from analytical to how-to to photo-features in no particular order that did not make our regular daily coverage. Enjoy!
---
I Called Off My Wedding. The Internet Will Never Forget – Wired
In 2019, Lauren made a painful decision. But to the algorithms that drive Facebook, Pinterest, and a million other apps, she is forever getting married.
---
VOGUE Cover Features Annie Leibovitz Photo of Amanda Gorman – VOGUE
The 23-year-old Amanda Gorman, the nation's first-ever youth poet laureate, read a poem during President Joe Biden's inauguration on January 20.
Gorman has now appeared in two different looks for alternate covers of Vogue for its May issue.
The first poet ever on the cover of @VogueMagazine. I am eternally grateful & do not expect to be the last—for what is poetry, if not beauty? – Amanda Gorman on Instagram
---
Karl Lagerfeld's Photographic Legacy is Moving to the Blockchain. What Does That Mean? – VOGUE BUSINESS
Karl Lagerfeld was a highly rated photographer who shot ad campaigns for Chanel in Paris. He was also the creative director of Chanel for 36 years and Fendi for 54 years.
Eric Pfrunder, Chanel's former artistic director for fashion who lived with Lagerfeld for 36 years, has inherited his photographic legacy after Lagerfeld's death in 2019. He has decided to register the 120,000-plus catalog of images on the Lukso blockchain, which is building a network for fashion and lifestyle.
I'm not a blockchain expert, but I learn about it every day. There's a big opportunity in this field, especially now that the COVID-19 pandemic has digitized people's lifestyles and is forcing us to enter into a new mindset. The blockchain is opening up so many different avenues, from authenticating this collection to virtualization and more. — Eric Pfrunder, Chanel's former artistic director for fashion, tells VOGUE.
---
New York Times Wins 11 Awards From White House News Photographers Association – New York Times
The White House News Photographers Association was formed 100 years ago on June 13, 1921 when President Warren G. Harding was in the Oval Office. Up on Capitol Hill, the two things then barred from the U.S. Capitol were dogs and photographers.
The New York Times won 11 awards from the White House News Photographers Association's annual Eyes of History contest, which honors excellence in visual journalism. Mills won 10 of them.
Doug Mills won both top prizes (see photos above) awarded by the competition. He was named Still Photographer of the Year, and his photo of Donald Trump exiting Air Force One as a streak of lightning appears in the sky won Political Photo of the Year.
"Washington is loaded with talented photographers, and I've been working here for more than 35 years and never won both of these coveted Awards in the same year," Doug Mills tells PetaPixel. "To say the least, I'm thrilled!"
Mills' advice to budding photographers:
Still photographers have one of the most exciting and challenging careers in Journalism. I encourage anyone who has the talent and the work ethic to get into the business. Like any career, you get out of it what you put into it. College students should try and get as many internships as they can… they are loaded with new experiences each and every day. If it's something you really want to do, DON'T GIVE UP… keep pushing yourself.
Note: We'd love to hear your photographic comments below—good, bad, or ugly–but no politics, please.
---
Underexposed: Women Photographers at the High Museum of Art – Juxtapoz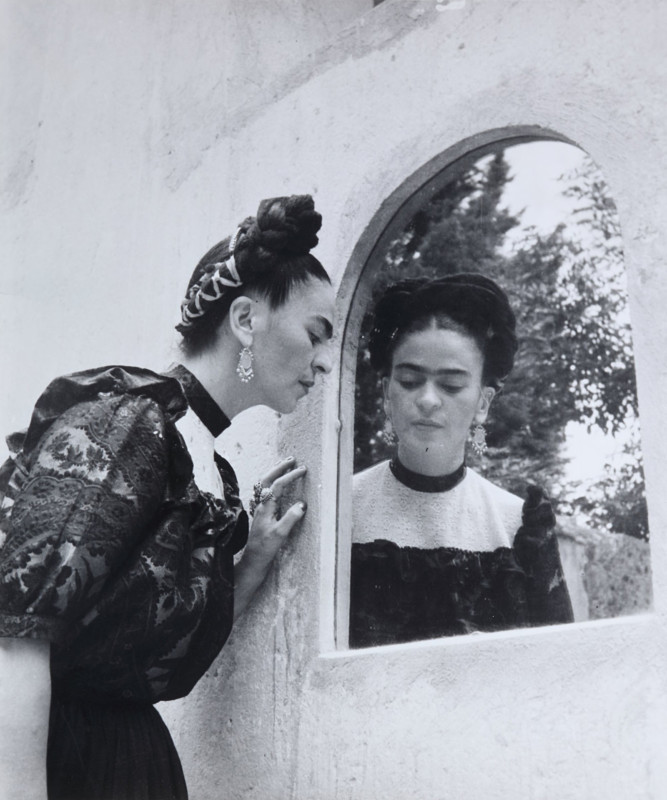 This spring, the High Museum of Art will present "Underexposed: Women Photographers from the Collection" (April 17-Aug. 1), an exhibition featuring more than 100 photographs from the Museum's collection, including many that have never before been exhibited.
The exhibition opens with a selection of works by artists who transformed the practice of photography from the 1920s through the 1950s. Coinciding with the global rise of the feminist ideal of the "New Woman" in the late 1900s, practitioners including Ilse Bing, Margaret Bourke-White, Dorothea Lange, and Imogen Cunningham emerged as savvy leaders in the fields of documentary, fashion, and fine art photography.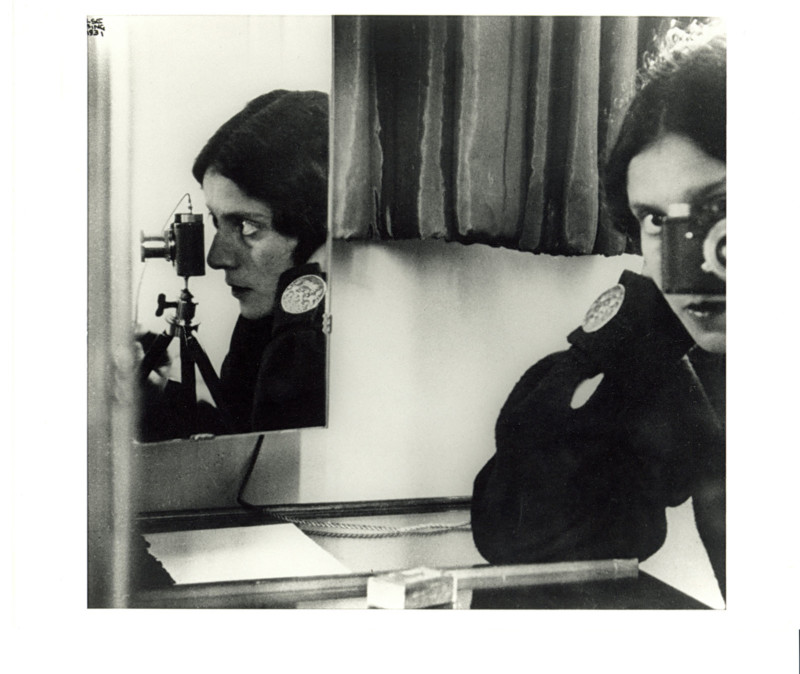 Works made in the 1970s and 1980s by artists including Barbara Kasten, Olivia Parker, and Sheila Pinkel join pieces by contemporary makers, such as Meghann Riepenhoff and Elizabeth Turk, who continue to expand the language of photography.
Works by Diane Arbus, Nan Goldin, Susan Meiselas, Anne Noggle, and Clarissa Sligh reveal different ways women have looked at and photographed other women. Sheila Pree Bright, Sandy Skoglund, and Susan Worsham show images that deconstruct ideas around domesticity and feminine ideals.
The exhibition closes with a selection of portraits and self-portraits by Judy Dater, Zaneli Muholi, Cindy Sherman, Mickalene Thomas, and Carrie Mae Weems, among others, that explore the intersections of photography, representation and identity.
---
Gannett Newspapers Selling Photos Online of Children They Photograph. Parents Don't like It – New Jersey GLOBE
As newspapers look for alternative revenue sources to supplement an ailing business model, some parents are pushing back on a decision by Gannett to monetize their journalists' work by selling photographs on their websites, including those of children.
---
Learn How the Affordable Kodak Brownie Camera Made Photography Accessible – My Modern Met
Modern photography was born in 1838 when Louis Daguerre captured an overhead view of a Paris street showing one man having his boots polished in an exposure that lasted several minutes. Photography needed large, heavy cameras and technical expertise all the way to the turn of the 20th century.
All that changed in 1900 when George Eastman released the first Kodak Brownie Camera. It was simple to operate, used roll film, and cost just $1. Over 150,000 Brownie cameras were shipped in the first year of production.
Quiz: The first Kodak Brownie camera was introduced in Feb 1900. Over the years, Kodak made over 100 different models, with the last one using 110 film. In which year was it made?
Answer: 1986.
---
How to Join or Start a Camera Club in 2021 – ShotKit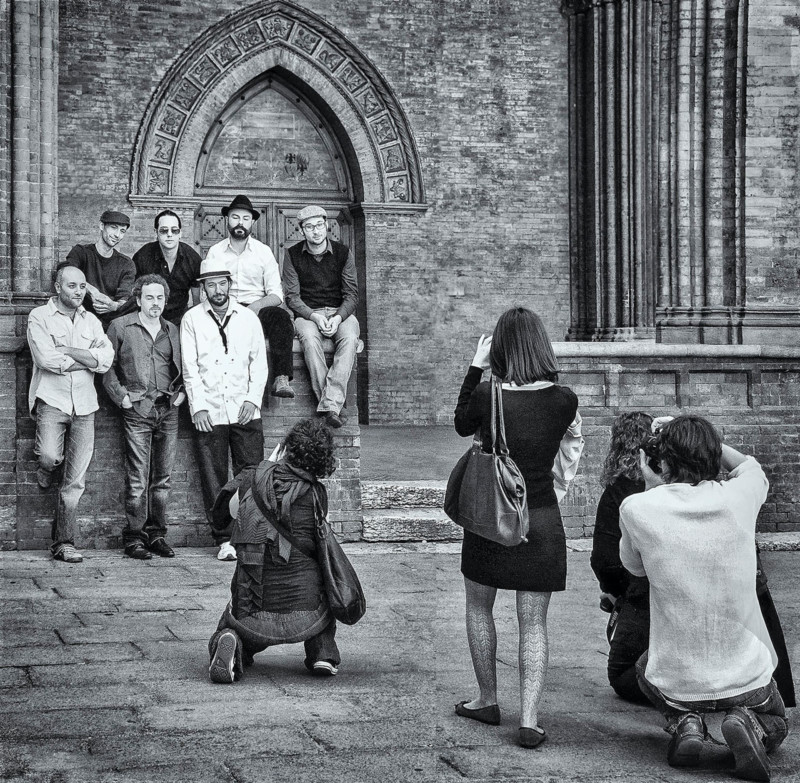 Being part of a photography club can be a great way to learn and develop as a photographer and build friendships with like-minded people.
Here are some things to consider before joining:
1.) Competitive or non-competitive?
2.) Do you want to learn from established photographers?
3.) Can you attend as a non-member before signing up?
Check out 10 more things to consider before joining at the link above.
---
8 Common Ethical Mistakes in Wildlife Photography (And How to Fix Them) – Feature Shoot
Mistake #1: Wildlife baiting
Mistake #2: Ill-considered use of flash
Mistake #3: Geo-tagging everything
Check out the other 5 Mistakes and full details at the link above.
---
Demand for Funeral Photography and Videography Booms in Wake of COVID-19 Pandemic – News Corp Australia
The pandemic forced people to become creative when it came to funerals, but one unusual service to capture moments could be here to stay.
---
In Spirit – Lens Culture
It was April 2020, and photographer Alison Luntz was not happy with the COVID lockdown.
"I have a large print of a landscape photo I shot in Scotland in 2018 hanging across from my bed, and it occurred to me to shoot a portrait in front of it and try to match the lighting to make it look like I was there," Alison Lunz tells PetaPixel. "I had nothing but time and thought this would be an interesting challenge and a bit of a visual joke to play on my Instagram followers.
"I posted the cropped-in version first, showing just me in the Scottish Highlands, and then the wide shot of my bedroom, which showed how mundane my surroundings really were. At the time, I had no long-term plans for this project, but after I'd completed it, I began to think of other scenarios I wanted to show and all the different ways this format could be used to express the feelings of isolation and longing."
Luntz sorted through her archives and selected photos that made her feel the most – the ones that evoked memories most vividly. Sometimes it was the people or places depicted that she missed, but just as often, it was something less tangible, a feeling of being in that moment that she wanted to recapture.
"I think photographs always have this power, to mentally transport us, so this project was an attempt to take it a step further," explains the photographer who studied theater directing in college.
To make these images work technically, she needed the largest prints possible. She also needed prints that could be destroyed without too much regret — the one in the bathtub and on the fence outside didn't survive the shoot.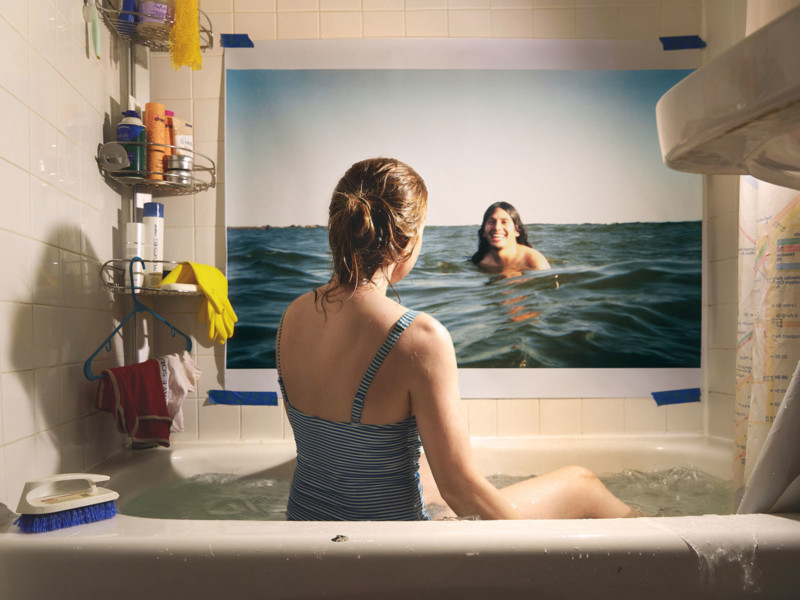 "So, I opted for blueprint and engineering prints in 36×48″," explains Luntz. "For some images, I would print on multiple sheets and tile them together. Now I'm looking into wheat paste printing options for future shots.
"The largest shot was made from nine 3-foot by 4-foot images tiled together – that one takes up almost the entire wall and is still up behind my bed. There's also one behind my couch, and of course, the original Scottish landscape shot still hangs across from my bed. In most cases, I liked to leave them up for a while after the shoot."
Luntz is a full-time freelance photographer in NYC and has been fortunate to have been able to focus only on photo work since 2014. She does a wide variety of work with events, portraiture, weddings, and studio shoots all around the city, in addition to personal projects like this.
---
Best Photography Graduate Schools – U.S. News & World Report
1.) Yale University
2.) University of California–Los Angeles
3.) Rhode Island School of Design
Check out the other 7 that made the Top 10 for 2020 by the U.S News & World Report
---
Westcott Makes Jimmy Fallon Look Good on Zoom – Forbes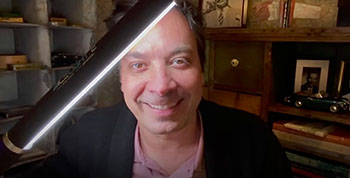 When Jimmy Fallon relocated his Tonight Show set from 30 Rock to the Hamptons to continue filming amid Covid-19 restrictions, his team phoned an Ohio-based photographic lighting company, Westcott. They wanted to order portable, studio-quality lights (Ice Lights) to give his home studio a more professional look.
As everybody started using Zoom, Westcott's ring lights helped to improve screen appearance.
According to President Brandon Heiss, before the pandemic, ring lights and green screens made up 1.3% and 2.5% of Westcott sales.
"From the start of the pandemic to December 2020, ring light and green screen sales increased by 400% and 600%," Heiss tells Forbes. "It was quite the change for a company that got its start selling fashion umbrellas in 1899."
---
How to Hide Photos on your Android Phone or Tablet  – Digital Trends
When you hand your phone to your co-worker to show him what your cute cat can do, he may not stop there. You definitely don't want that person to keep on swiping and check your other photos.
Because the temptation may be overwhelming, you can hide photos on your Android device — either in the device settings or using a third-party app. Here's how you do it.
---
Why I Like This Photo – Ami Vitale
I like this photo as it illustrates our fragile and complex relationship with the natural world. It represents the heartbreaking reality of a mass extinction we are all facing. This is Zacharia Mutai, the head keeper of the last two northern white rhinos left on the planet, touching the horn of Najin, the oldest of the two rhinos at Ol Pejeta Conservancy in northern Kenya. Zacharia has a profound understanding of just how precious these last northern white rhinos are, and he spends his life caring for and protecting them 24-hours per day, seven days a week. He and the other men devoted to caring for them spend more time with these rhinos than they do with their own families. The bonds are deep, and they have become the northern white rhinos' closest friends and greatest advocates.
I have spent the last eleven years getting to know the rhinos and the keepers, which allowed me to get close and have their trust. I like the layering of this image. There is something symbolic about the way Zacharia is touching Najin's horn in the foreground. It represents the relationship and trust he has with this rhino, and at the same time, there is something mysterious and ominous, knowing that it's her horn that has led these creatures to the brink of extinction. I like the rhino in the background, blissfully browsing, but there is a sadness to the whole image. We know under normal circumstances, no human being should be touching a rhino. If things were okay, they would truly be wild.
Losing a keystone species has a huge effect on the ecosystem and can throw a society's existence out of balance. These giants are nature's greatest engineers. They are part of a complex world created over millions of years, and their survival and history are intertwined with our own.
This is part of an ongoing story I've been working on and what began as documenting extinction has a beautiful twist. Today, an international consortium of scientists and conservationists from Leibniz Institute for Zoo and Wildlife Research, Avantea, Ol Pejeta Conservancy, Kenya Wildlife Service, and Safari Park Dvur Kralove have been harvesting immature egg cells from the two females. They artificially inseminate them using frozen sperm from deceased males to create viable northern white rhino embryos. In the near future, the embryos will be transferred into southern white rhino surrogate mothers to create northern white rhino offspring.
We must see ourselves as part of the landscape.  Our fate is linked to the fate of animals. Without rhinos and elephants, and other wildlife, we suffer more than the loss of ecosystem health. We suffer a loss of imagination, a loss of wonder, a loss of beautiful possibilities. Saving nature is really about saving ourselves.
Ami Vitale is a Nikon Ambassador and National Geographic Magazine photographer, writer, and filmmaker who has photographed in more than 100 countries. Instyle Magazine named Ami one of 50 Badass Women, a series celebrating women who show up, speak up and get things done. She is a five-time recipient of World Press Photos, including 1st Prize for her 2018 National Geographic magazine story about a community in Kenya protecting elephants. Panda Love on the secret lives of pandas is her best-selling book that has recently been published.
---
Quote of the Week (or a previous week):
Embed from Getty Images
Photo by Steve Parsons, Canon EOS-1D X, 16-35mm f/4L.
­­­Just take the f***ing picture 1 — Prince Philip, husband to Queen Elizabeth II for over 70 years who sadly passed away two days ago aged 99.
1 12 seconds into the video above, Prince Philip was heard swearing to the royal photographer Steve Parsons during a photoshoot at the RAF Club to commemorate the 75th Anniversary of The Battle of Britain on July 10, 2015, in London, England.
---
To see an archive of past issues of Great Reads in Photography, click here.
---
We welcome comments as well as suggestions. As we cannot possibly cover each and every source, if you see something interesting in your reading or local newspaper anywhere in the world, kindly forward the link to us here. ALL messages will be personally acknowledged.
---
About the author: Phil Mistry is a photographer and teacher based in Atlanta, GA. He started one of the first digital camera classes in New York City at The International Center of Photography in the 90s. He was the director and teacher for Sony/Popular Photography magazine's Digital Days Workshops. You can reach him via email here.
---
Image credits: All photographs as credited and used with permission from the photographers or agencies.