Isaac West, "Untitled", from IN LOVE, 2021. © Isaac West. Brad Ogbonna, "Paul & Peter", 2021. © Brad Ogbonna.
There's a moment in everyone's Instagram journey when they ask themselves, "Wait… am I a photographer?" Not exactly. But iPhone camera rolls have made us witnesses to pivotal moments that, when democratised, have altered the course of cultural discourse, tangible policy and social justice as a whole. This was the impetus for the International Center of Photography's latest show, curated by Isolde Brielmaier. "Our awareness of the fight for Black Lives, racial justice, the election at large — all of that really is mediated through images generated by a very public tool: the iPhone," Isolde says. "I wanted to see what would happen if we took what I would argue is one of the most extroverted mediums and flipped the lens on itself." What resulted was INWARD: Reflections on Interiority. 
As one of the first exhibits shot entirely with on iPhones, INWARD features the works of Arielle Bobb-Willis, Brad Ogbonna, Djeneba Aduayom, Isaac West and Quil Lemons. Together, they've captured the likes of Zendaya, Billie Eilish and Simone Biles for TIME, The Atlantic, The New York Times and more. In what Isolde refers to as a time of "global introspection", the five artists appropriately represent all corners of the world — from Nigeria to Paris — with pieces that serve as extensions of their respective identities. In this space that merges the iPhone and fine art, the exhibition breaks down certain barriers traditionally associated with reputable, visual art establishments; and communicates to those interested in pursuing a career in photography that, perhaps, the tool they have in their pocket can make it all possible.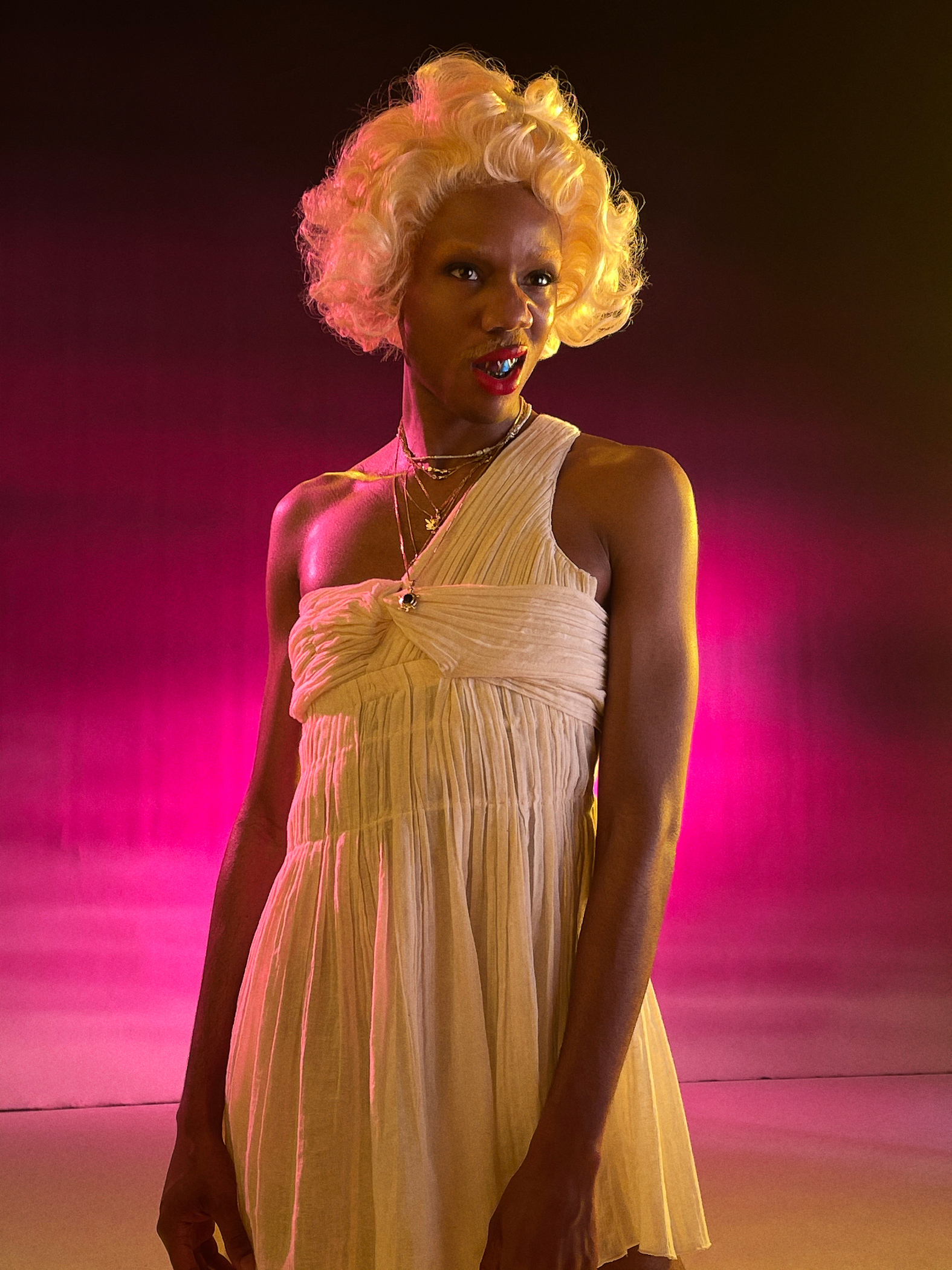 Quil Lemons, "Melanin Monroe", 2021. © Quil Lemons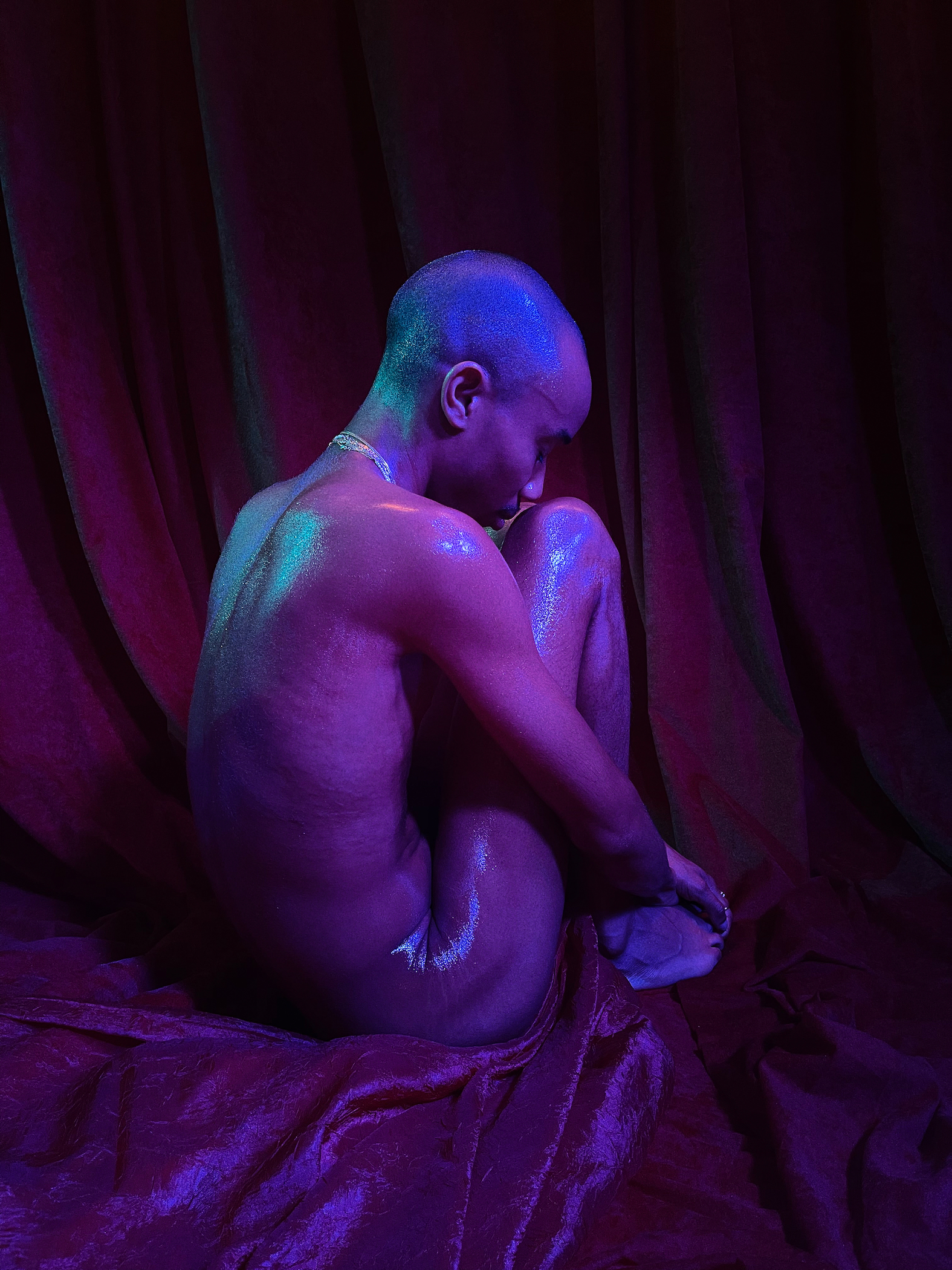 Quil Lemons, "Genesis", 2021. © Quil Lemons
Quil Lemons
For Quil Lemons — who debuted with his GLITTERBOY series — INWARD was an invitation to explore the various sides of his personhood. Standing in front of his four self-portraits, Quil explained that each snapshot was a result of him "digesting, regurgitating and fragmenting" himself. The portrait entitled "Melanin Monroe" — an ode to the Black women who were not given the same spotlight as America's white sweetheart, Marilyn Monroe — depicts Quil's first time in drag. Known for his interrogation of gender, sexuality and Blackness, the 23-year-old photographer's latest series doesn't fall short in questioning what it means to simply exist as an intersectional human being. Quil emphasises that photography is his way of preserving himself, ensuring his existence is not erased. And in this vulnerable space, he was able to use an iPhone 12 Pro Max to confront a certain friction in his identity — capturing "what it means to be Black in this country [and] what it means to be queer in this country: there are so many obligations, but then not at all."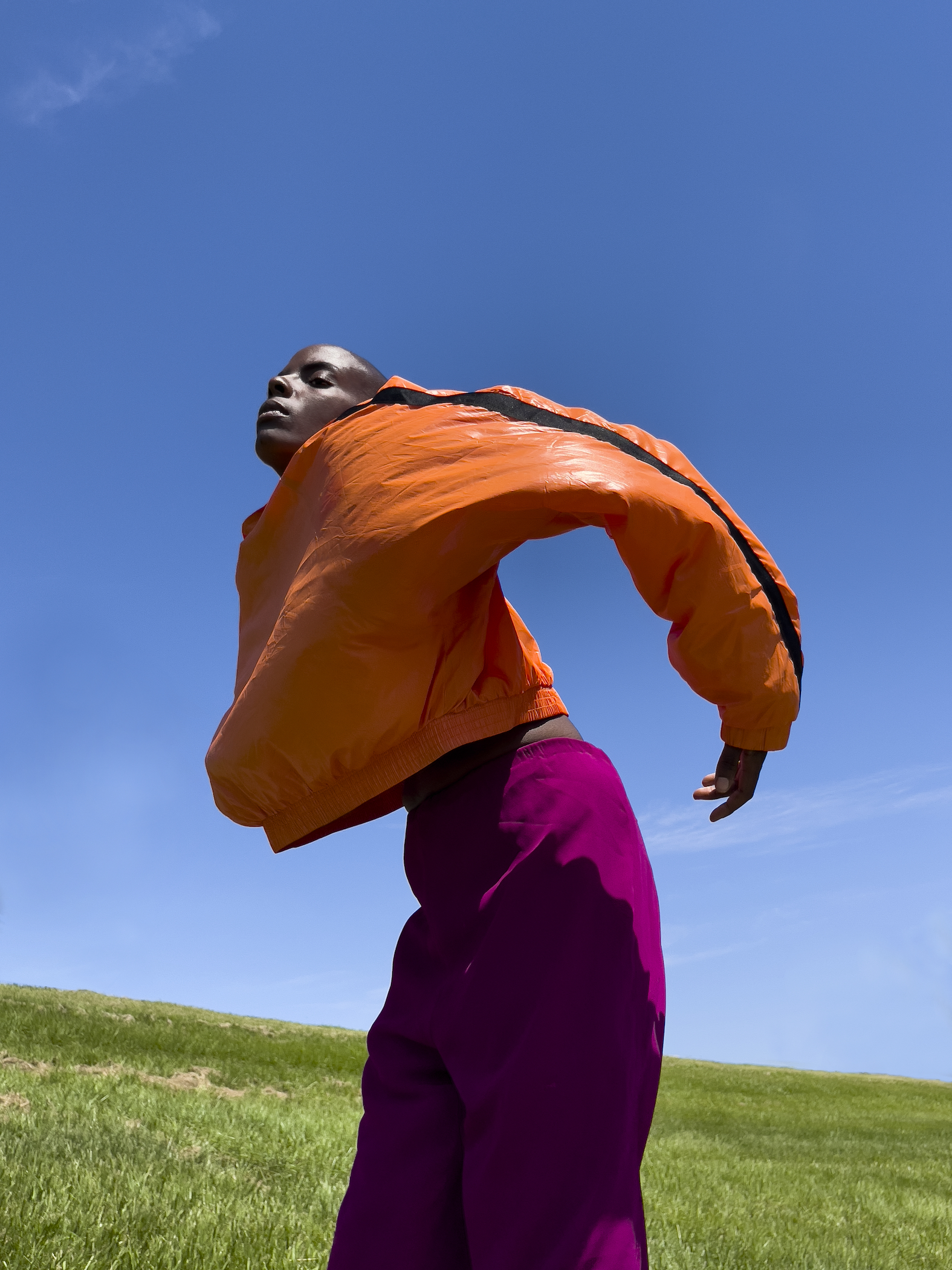 Arielle Bobb-Willis, "New Orleans 01", 2021. © Arielle Bobb-Willis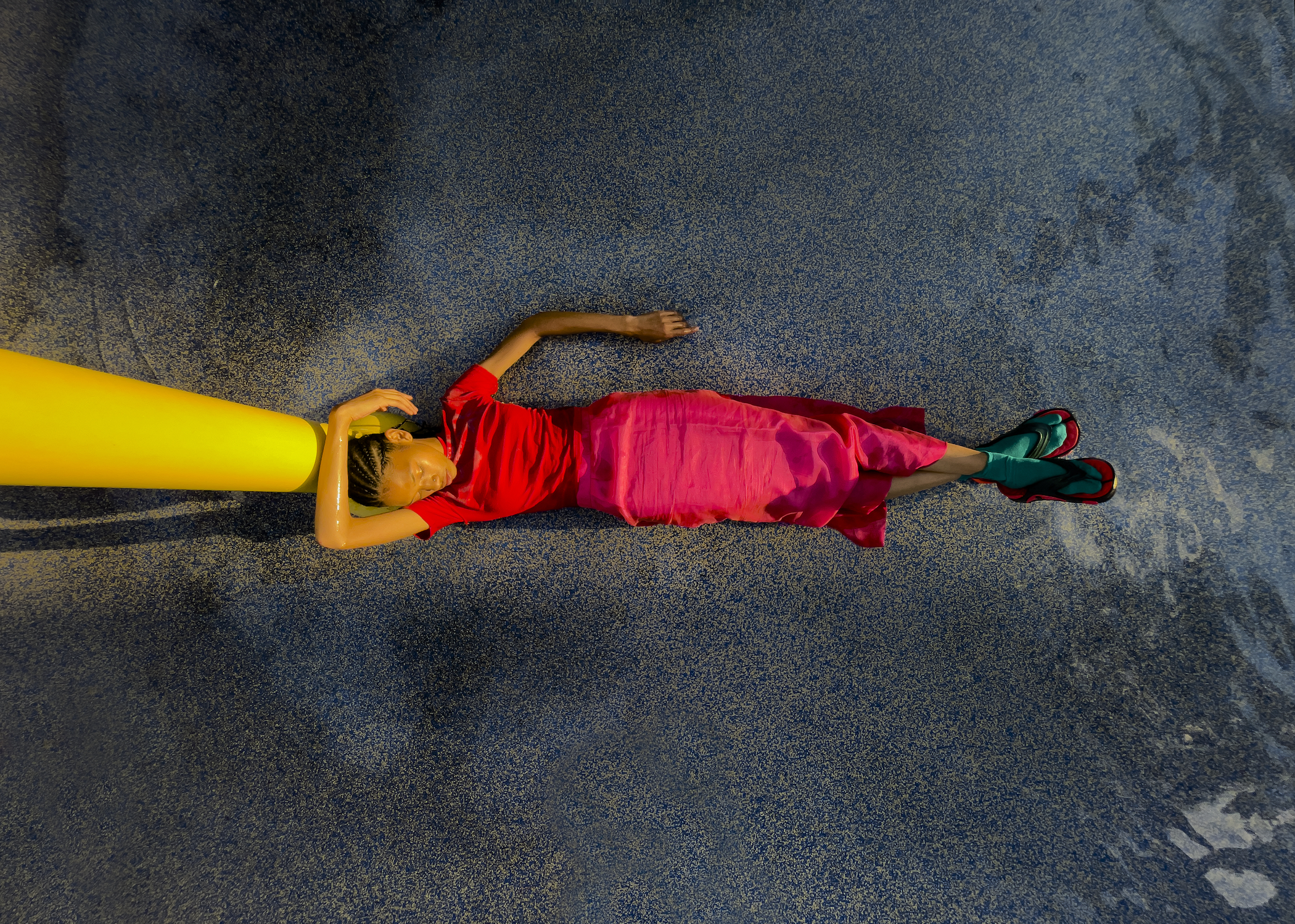 Arielle Bobb-Willis, "New Jersey 01", 2021. © Arielle Bobb-Willis
Arielle Bobb-Willis
Arielle Bobb-Willis' pieces hold space for her battle with depression in concert with the idea that photography is her primary means of meditation and presence. "My photography is a moment for me to be uncensored — it's the moment where I just don't give a fuck," she says of her way of detaching through portraiture. Having shot for an international Apple campaign back in 2018, using an iPhone to get reflective and show off her skills came easily to Arielle. And be it through her sporadic thrifting for models' wardrobes or use of bold oranges, magentas and yellows, there is a vibrance that distinguishes Arielle's work. With a gentle smile, she tells me that — like cleaning or meditating or exercising — photography is her outlet for staying healthy; and this self proclamation carried her through a pandemic period that had her feeling slightly lost.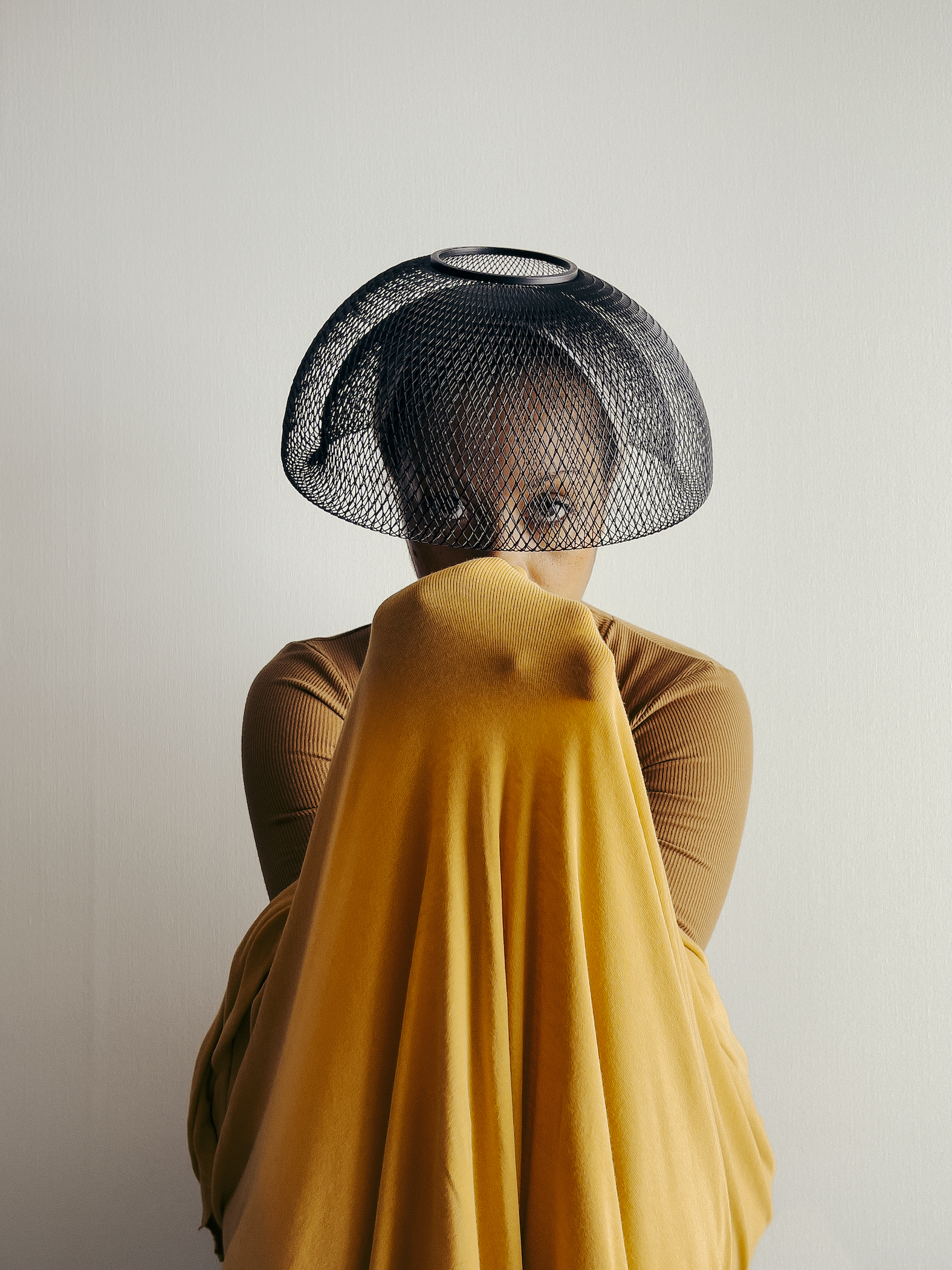 Djeneba Aduayom, "Invisible Walls", 2021. © Djeneba Aduayom
Djeneba Aduayom, "Transplace", 2021. © Djeneba Aduayom
Djeneba Aduayom
On the other side of the spectrum is Djeneba Aduayom, the Parisian dancer-turned-photographer who found herself absolutely in her element throughout a year of seclusion. "The world outside really scares me, it's very overstimulating," Djenaba laughs as she describes her introversion. "It's a lot for me to handle, so I usually create worlds in myself to escape — and thus my imagination is very rich." For INWARD, this quiet confidence manifests in a textured, abstract mix of self-portraits and object snippets whose common thread is a relationship with movement. From Invisible Walls — a series of four portraits that show the photographer stretching and manipulating what looks like a suit made of lycra — to Transplace — wherein shadows sandwich an obscure, flower-crowned Djenaba— we're all left wondering what moves through the photographer's visionary mind.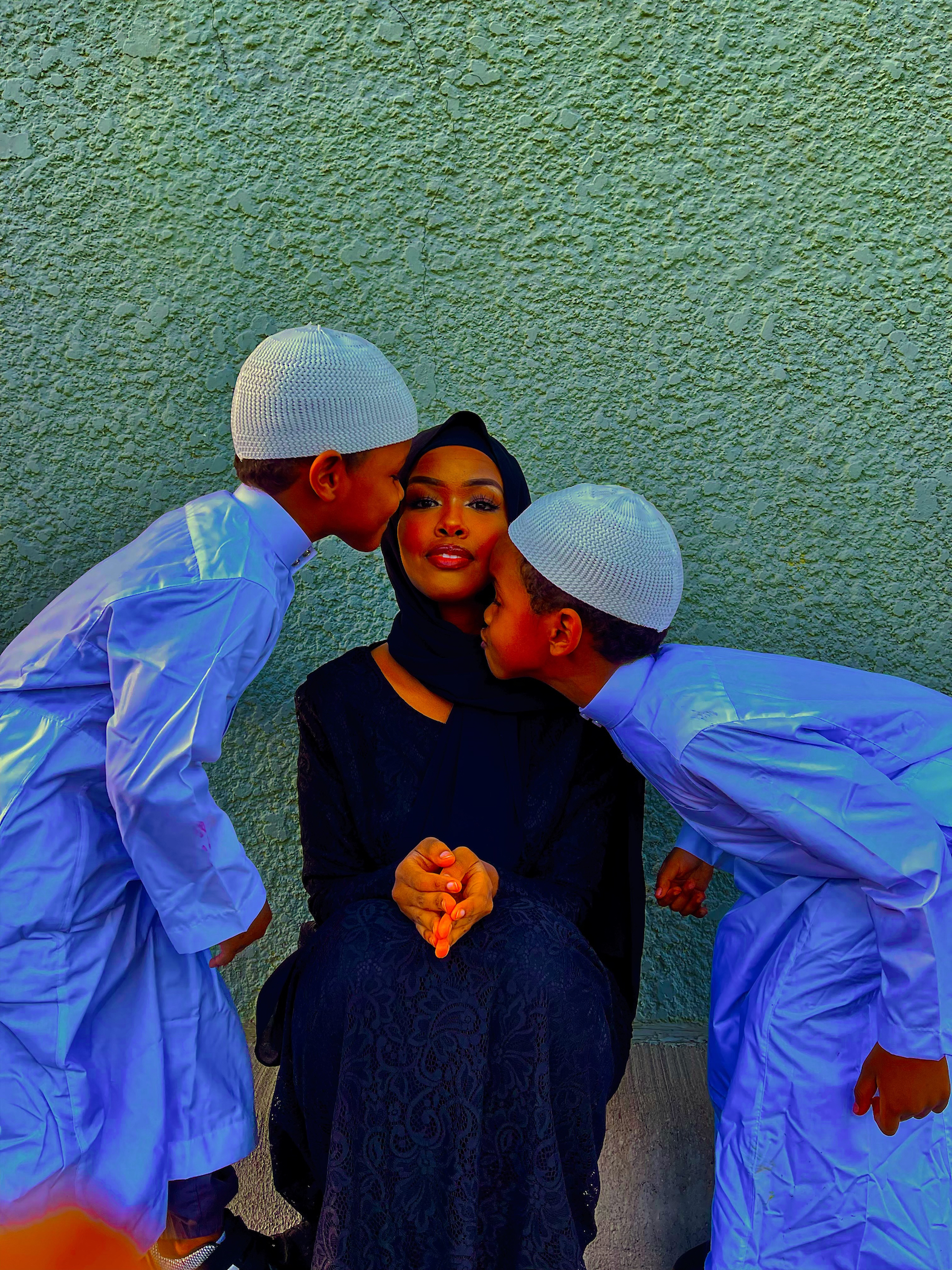 Isaac West, "Untitled", from IN LOVE, 2021. © Isaac West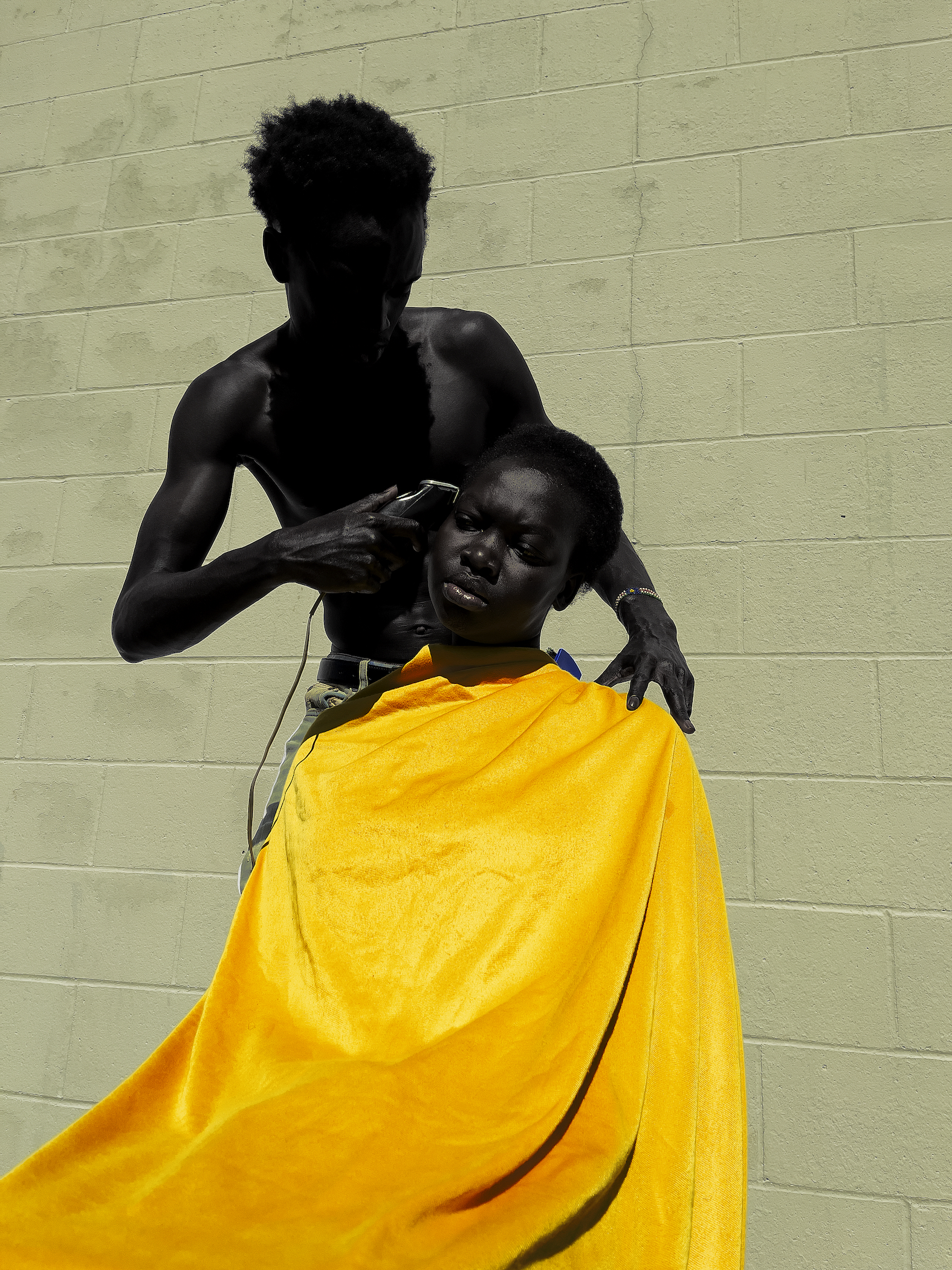 Isaac West, "Untitled", from IN LOVE, 2021. © Isaac West
Isaac West
For Isaac West's series IN LOVE, there is no question as to what he was thinking when assembling his work for ICP. "The entire project is inspired by my girlfriend Naima — I'm completely in love with her," he says bluntly, as though sharing what he did earlier that day or reading through a grocery list. Before photography, Isaac was a creative director; but after an artist misconstrued his concept for a project, he decided he wanted to be the one to physically frame his vision. For INWARD, the goal of his work is simple and frames four distinct scenes: a man cutting his partner's hair, their dark skin in contrast to a bright mustard smock; that same partner dousing syrup on pancakes as he is seated to eat; two sons in blue caftans kissing their mother against a textured green backdrop; a couple just married holding their baby. These moments of shared intimacy are pleasantly obvious — and in a way mimic Isaac's blunt assertion of his own love. 
Brad Ogbonna, "Paul & Peter", 2021. © Brad Ogbonna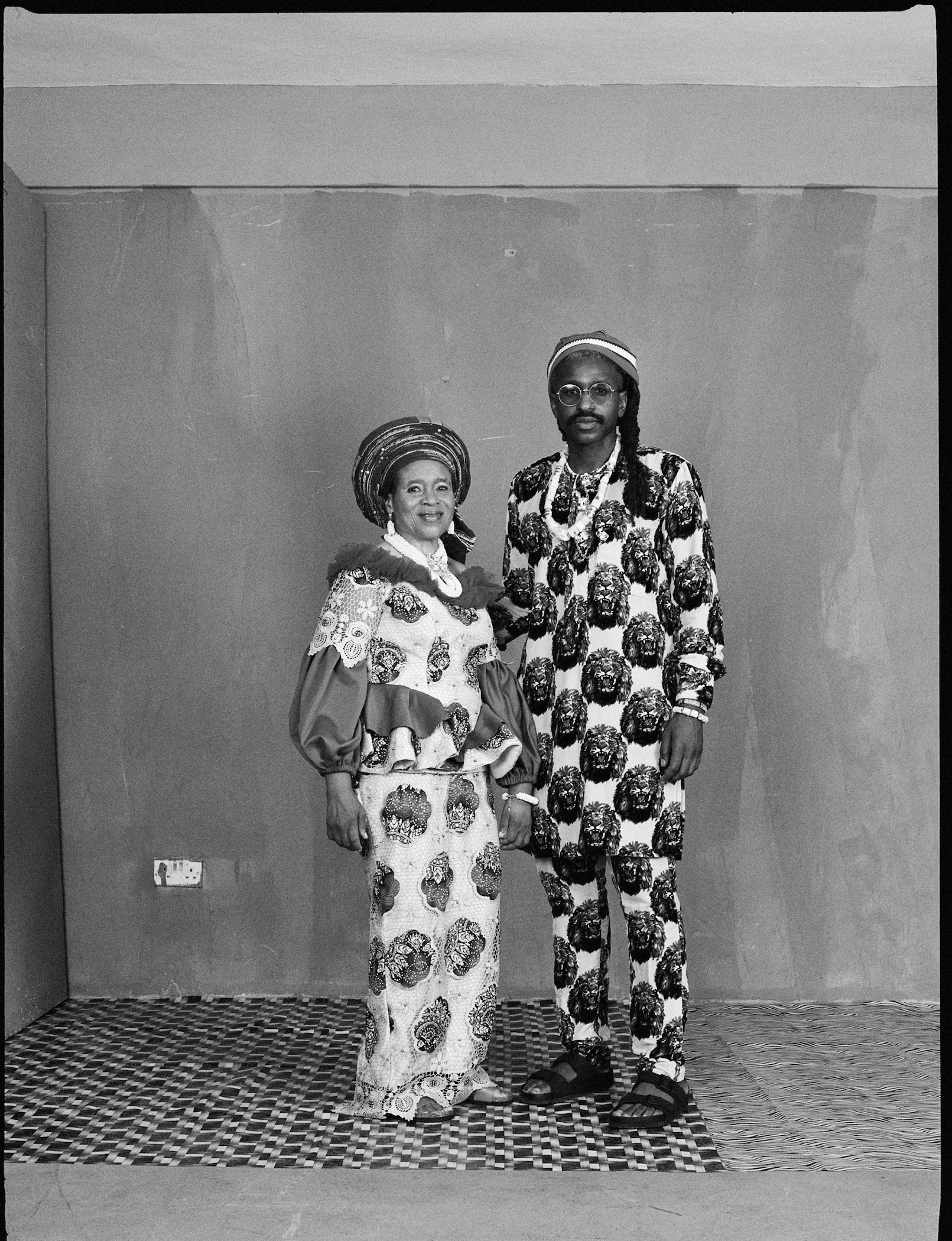 Brad Ogbonna, "Stella Ngozi & Brad Ogbonna", 2021. © Brad Ogbonna
Brad Ogbonna
Brad Ogbonna draws from black and white family albums and historical West African portrait photographers like Malick Sidibé and Meissa Gaye for his photo sequence. "This style of image-making, for which the purpose was purely recreational, has been missing," Brad says of his decision to riff off vintage frames. In the same way that families used to pass down portraits for ancestral record keeping, Brad hopes he can share this work — which happens to be the first time he has included his own family in his photography — with his mom, uncle and others back in Nigeria. Between his mother's stroke and having been away from her during Covid, Brad shares that this project was a reflection of appreciating time with loved ones — and creating a sense of timelessness in his photos. 
Together, these five perfect strangers have created something of a cultural moment for photography. One that legitimises photographers gripping their iPhones at all corners of the globe. And, perhaps even more powerfully, one that emphasises how we as a society are blurring the lines between personal vision and professional, political action — be it for New York's greatest museums or our own social media accounts.