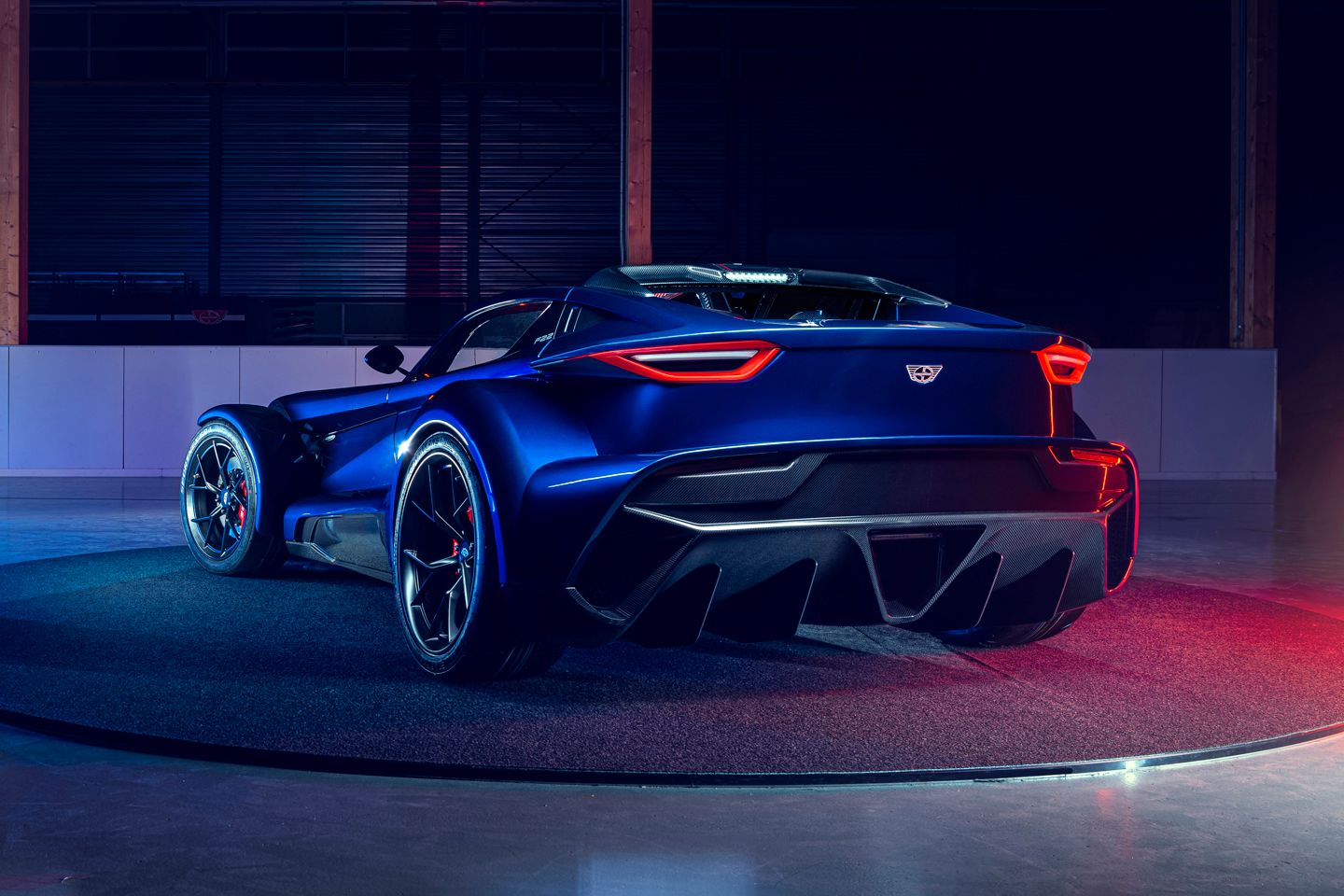 There's an awful lot to be said for small, light, fast and efficient cars, especially when it comes to the performance sector. Surely taking things away to use fewer resources must be a better approach than adding them? Trouble is then, of course, the potential for creating a car that's not really usable enough by modern standards: too tiny, too lacking in equipment, not safe enough. Donkervoort, however, reckons it has reached the ideal compromise of both for its latest car, the F22.  
Here's a front-mid-engine, rear-wheel drive car with 666hp-per-tonne, which is already a good start for a supercar. Just 2.5 seconds is required to reach 62mph, and the top speed is 180mph. It's powered by the venerable Audi five-cylinder, too, so that's the emotion box ticked. It'll corner at up to 2.15g yet, thanks to a kerbweight of just 750kg, it also emits just 163g/km of CO2. Which is within 50g/km of the hybrid McLaren Artura. Oh yeah, and it's manual as well, with rev match and flat shift technology… 
It gets better, too, because in response to customer feedback the F22 is the most accommodating Donkervoort ever. While still just about four metres long, there's now an additional 80mm of shoulder room and 100mm of length in the interior. It looks positively plush in there by Donkervoort standards, too, with bespoke Recaro carbon seats, switches on the wheel and even an iPad integrated as the infotainment. Apparently, the harnesses are the first approved for both road and track use. Donkervoort says the F22 will deliver 'an entirely new dimension of liveability and versatility when it is not being driven to the outer limits of its mountainous abilities.' The roof can even be stored in bags that fit in the roof, so it doesn't have to be saved just for sunny days. Though expect a little more effort than the conventional drop-top supercar.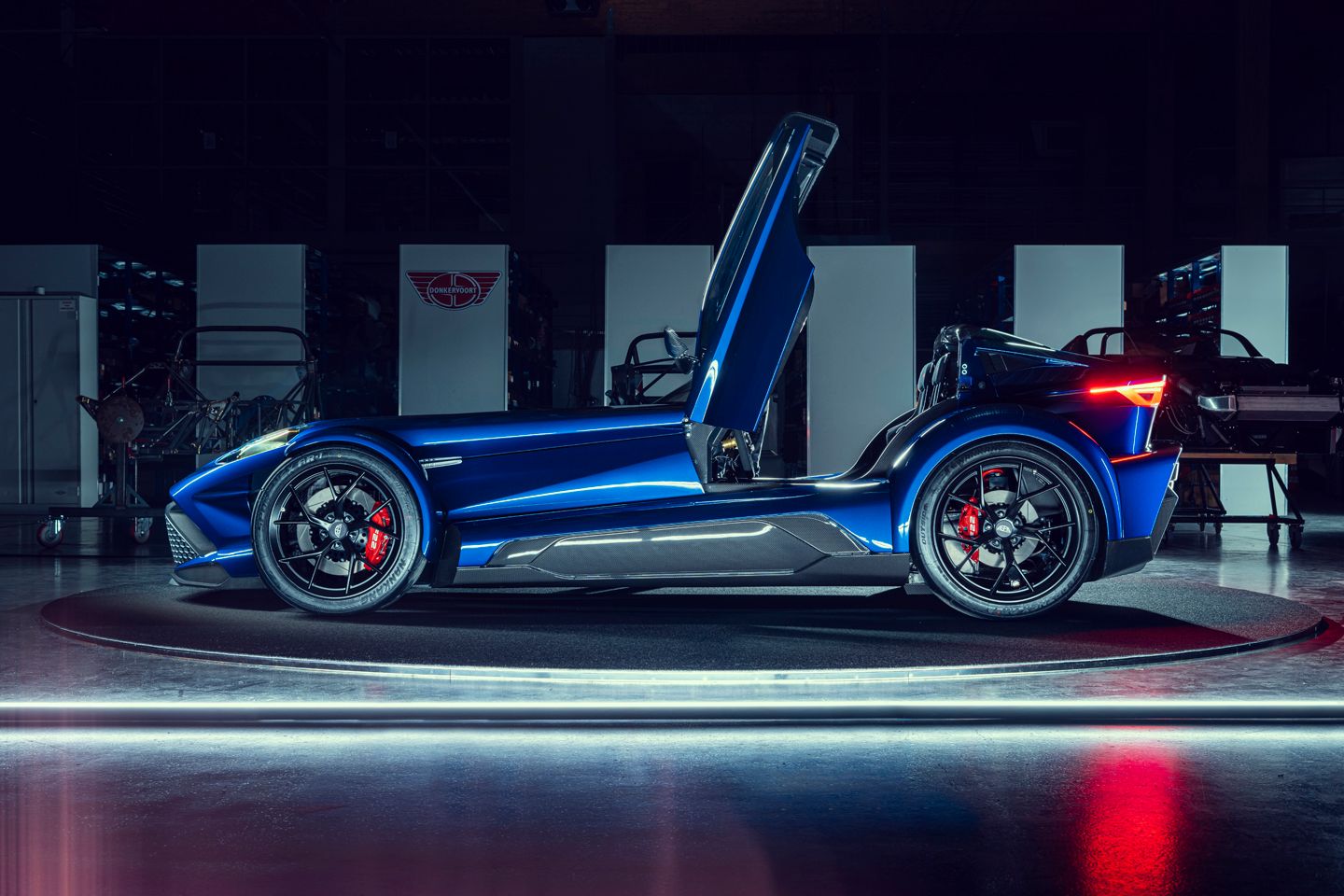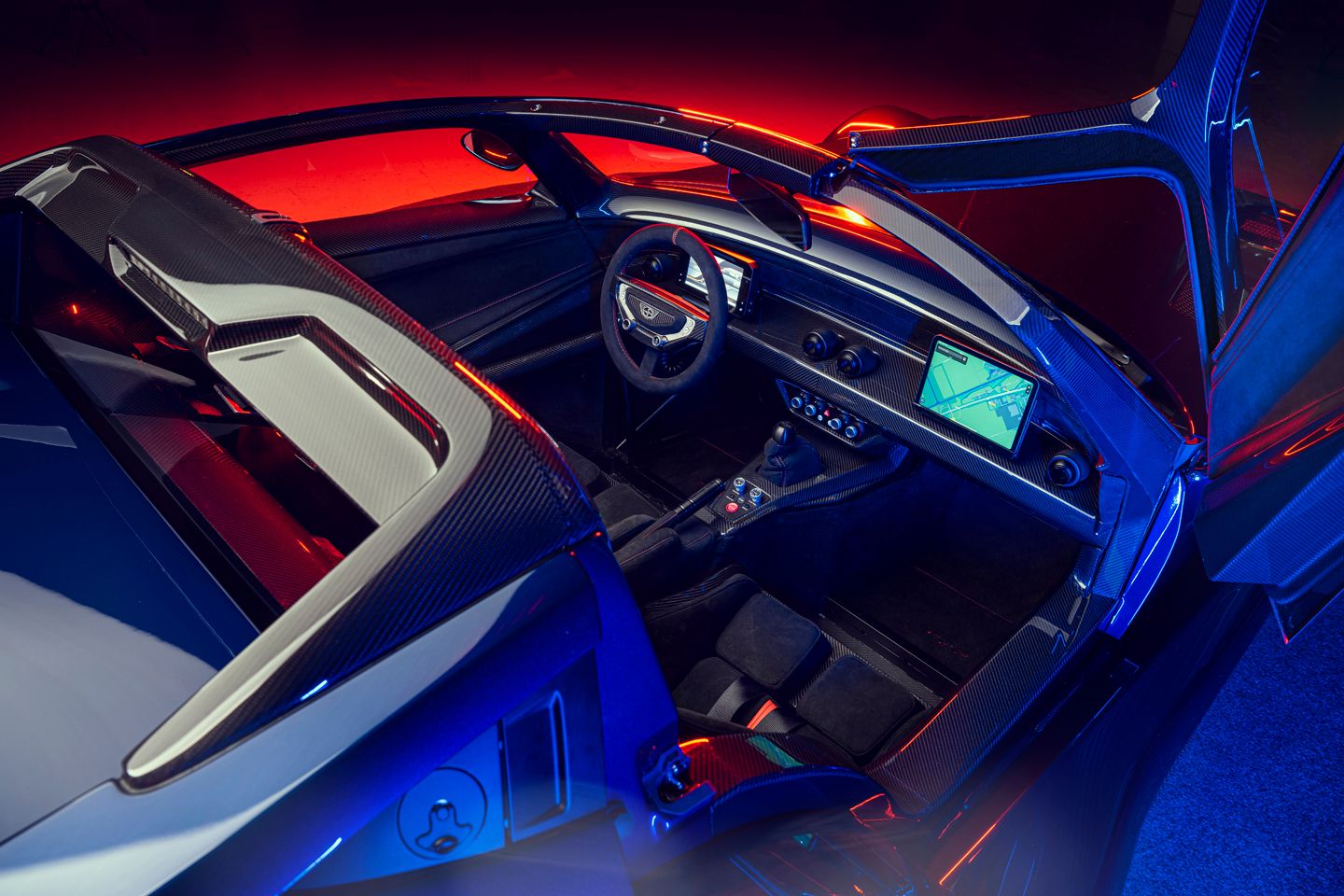 The F22 is a clever car underneath, too, built from steel, aluminium and a 'generous serving' of carbon fibre, including what's called an 'Ex-Core carbon sandwich system'. It contributes to a claimed 100 per cent increase in torsional rigidity over the old D8 GTO. Suspension is by TracTive adaptive dampers, with electronic valve control and ride height adjustment; the new set-up will 'deliver during the calmest and most frenzied extremes of a driver's demands.' A lot is then up to the driver, in every sense, with power steering, ABS and even brake servo optional, for a bit of old-school supercar fear factor. There are AP discs at each corner – an entirely new system, actually, promising 1.12g – Nankang tyres and a Torsen limited-slip diff.  
Finally, it's probably worth mentioning how the F22 looks. If a supercar should be attention-grabbing, and there are too many of the usual suspects around, then what could be better? It celebrates Donkervoort's open-wheel heritage but offers something different, as well, with the twin-Targa carbon roof and rear end that's ever so slightly reminiscent of the Lotus Emira. According to its maker, the F22 has 'destroyed the modern supercar rulebook'.  
Donkervoort will make just 75 of these new cars, with the majority of that allocation spoken for already thanks to so much interest before the reveal. It'll be sold in North America, the Middle East and Europe, where it'll cost €245,000 before tax – bang on modern supercar money, then, if offering a very different experience. Deliveries will begin in January.