In a year spent stuck inside, twiddling our thumbs as the walls slowly close in, I've found comfort in a few essentials: copious amounts of chocolate, FaceTime with mum, and trans+ art. Today, on International Transgender Day of Visibility, perhaps many more will too, if only via the aesthetically-pleasing Canva infographics of Instagram. While this is fine, our support for trans+ artists must run deeper than stories that expire in 24 hours.
It's not as if 'trans issues' aren't discussed on other days of the year. On the contrary, the subject is an obsession of the British media. The difference here is that the conversation never involves any trans+ people. To give just one example, in 2020, The Times produced 324 articles related to trans+ people… each and every one written by a cis person. (TL;DR they're all a variation on the pointed question "Why do trans+ people refuse to be made invisible?"). While it's cool knowing trans+ people exist raises hand, our existence is more valuable than clickbait for bigots. 
While the world collectively reckons with structural oppression left unaddressed for far too long, the art of trans+ creators is so important because, whether implicitly or explicitly, it remarks upon and deconstructs the institutional violence and discrimination faced every day. The words, sounds, structures, movements, and images conjured by trans+ artists transcend clannish boundaries, shed light on obscured experiences, and empower marginalised communities. 
This is a crucial moment. The pandemic has mounted deep challenges to so many trans+ artists, with festivals, galleries, and performance venues forced to close and a lack of sufficient government support materialising. So, on this International Transgender Day of Visibility, we want to remind you that trans+ artists are out here doing the damn thing all year round. In the face of institutional erasure, the creative resilience displayed by these artists renders their work all the more critical. Here, five of our favourite trans+ artists discuss the essential nature of their work and their thoughts on days such as today, with portraits by Heather Glazzard.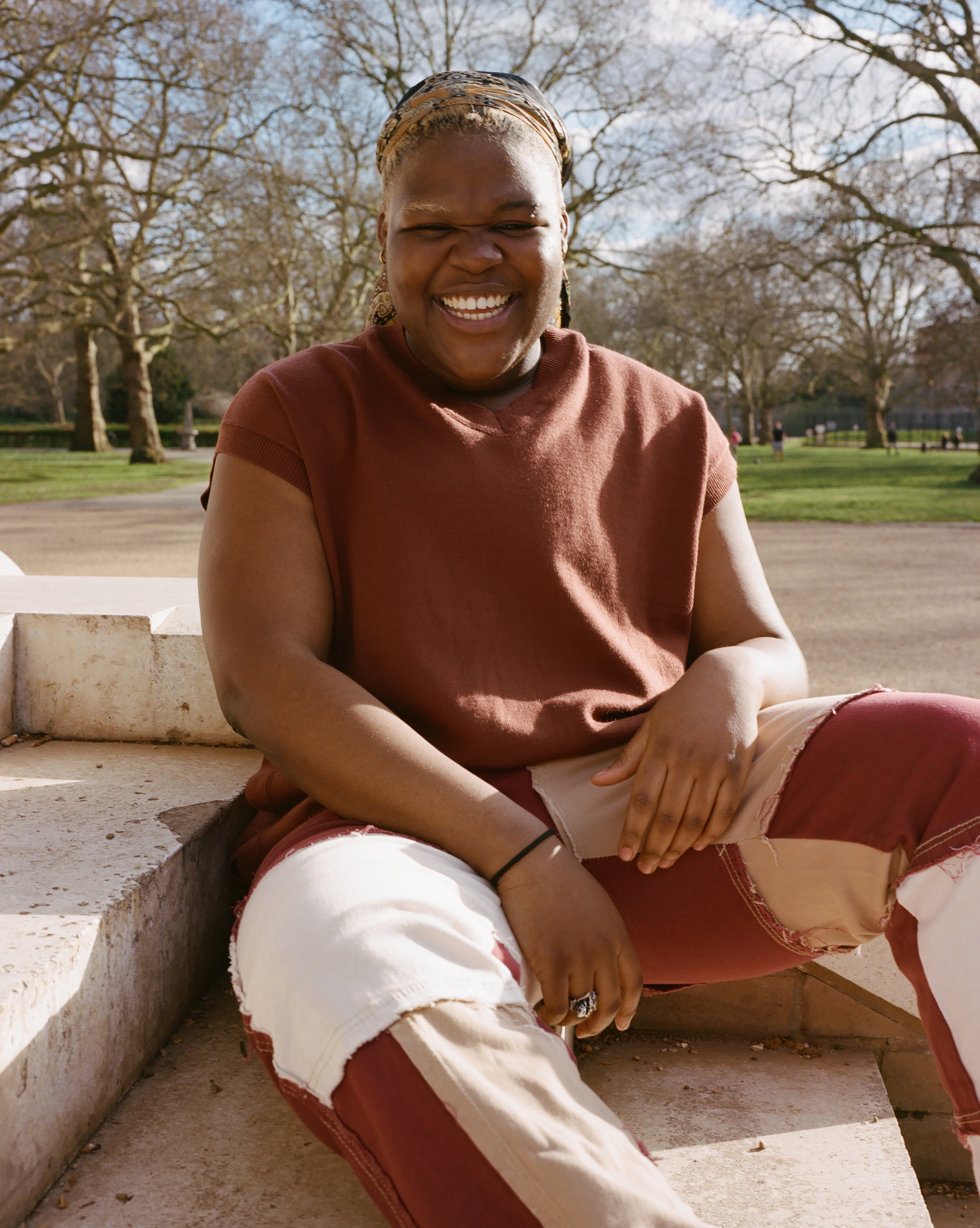 Tanaka Fuego (he/they), poet
Tanaka Fuego, a poet focusing on themes of "liberation, honesty, and the power in claiming your own narrative", believes trans+ art can give trans+ people agency and positively alter the perception of transness at the same time. "Being trans is an experience that can shed so much light on the human form," they say, adding that "[trans] stories are important because they allow space for autonomy by the artist and allow the world to reflect."
On whether trans+ art is essential, Tanaka wholeheartedly agrees. "As long as trans folk exist, trans art will continue to be an essential contribution to the world." And although they're blessed with a "community and family that do see the value in the work", they're all too aware that trans art+ is not valued enough in the wider art world. There's a "lack of investment people tend to make in trans folk overall," they add.
Tanaka believes days such as Transgender Day of Visibility are important but often fail to exhibit a diverse range of experiences: "It's important for us to see ourselves, it's just sad at times that the people who get to control what we see in the media, tend only to want to show a certain type of look that's palatable to the white gaze."
Ayesha Tan Jones (they/them/theirs), artist, musician and witch 
As an artist, musician and witch, Ayesha Tan Jones — also known as YaYa Bones — seeks to construct their own sci-fi future through sculpture and film, a world where "queer, trans and folks of colour are the leaders, deities and rule breakers, growing like networks of mycelium in the forest floor". Their art asks the viewer to accept that utopia is unobtainable and utilise "the shards of rubble" from our dystopian reality to "cultivate magic, hope and compassion."
Ayesha not only views trans+ art as essential, but believes trans+ people are themselves "an act of magic and art, transcending boundaries and transforming themselves into the visions they are." They consider it crucial to see and experience trans+ art in a world that is not created for trans+ people because: "We need to take up more space in a world that is built for and by cis het white men (AKA the art world/the western world!). Our narratives must be told." 
On the topic of Transgender Day of Visibility, Ayesha warns us not to mistake tokenism for genuine acceptance, pointing out that "trans+ artists are not a sprinkle of diversity for a funding application," but "people who deserve the same access to space as a white cis male artist." They express that while it is important to celebrate visibility, "it is also important to recognise that it is a privilege to feel safe while being seen."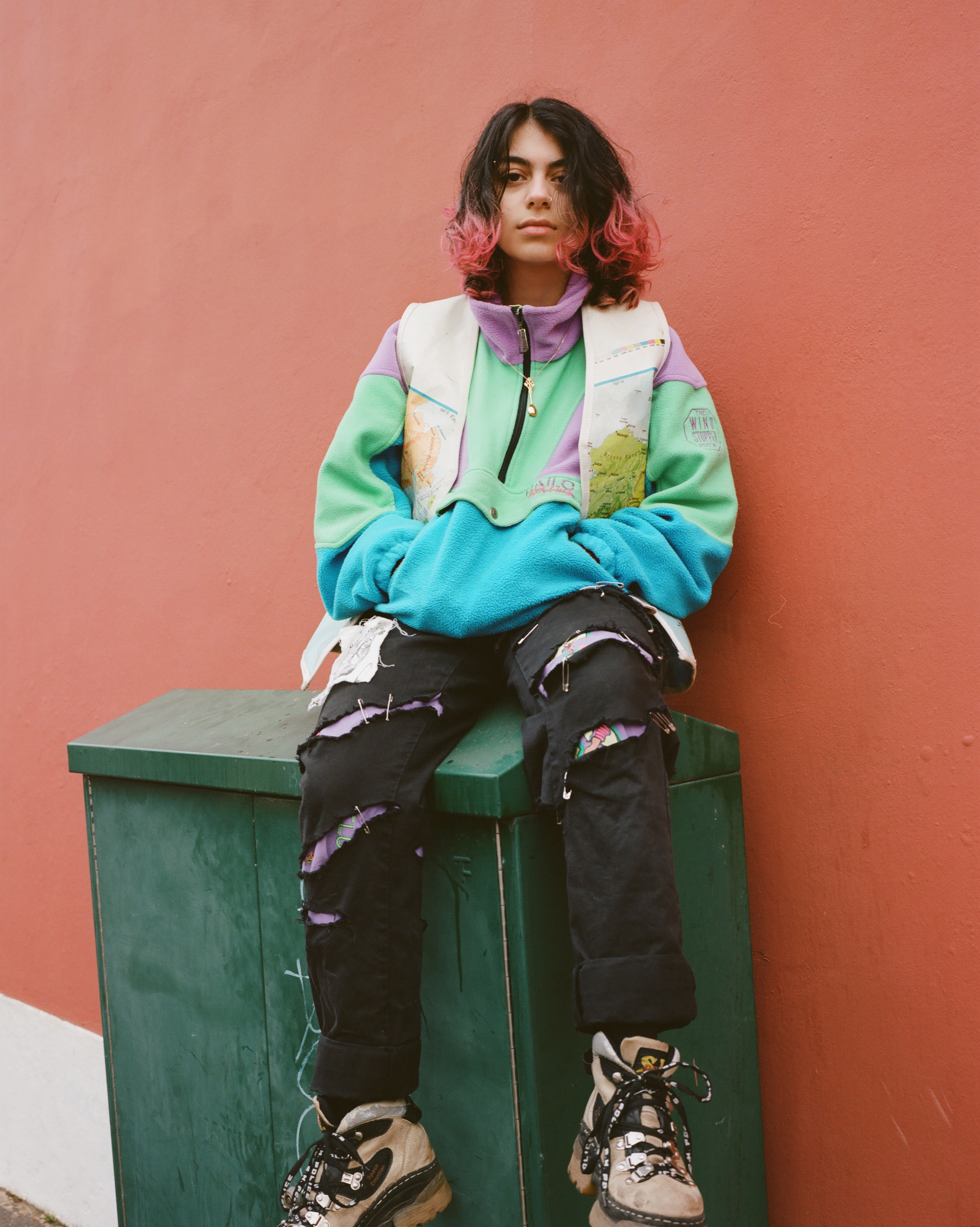 Sheiva (she/they/he), singer and bassist
The primary message contained in Sheiva's art is simply "to not give a fuck about what people think." "Expressing yourself unapologetically is hard when we have so many societal norms that we don't fit into." Sheiva's songs and visual art examine the relationship between internal feeling and external perception. Defined as "metaphysical", Sheiva's art comments on the inability to understand an artist's deepest emotions from an outside perspective. "I don't believe they (personal feelings and existential anxieties) are comprehensible to humans … they only exist in my mind, and others can only perceive a limited amount of my 'life'".
Sheiva recognises their craft as a tool for change, telling me that "Trans+ art will provide a better look into the reality of our lives… creating a future where ignorance isn't acceptable."
While they're grateful for Transgender Day of Visibility, the artist notes that there is so much more work left to do. "There is a lot of conversation, but no action", stressing the importance that trans+ people become part of "decision-making roles… minimising the need for safe spaces" as well as being given the freedom to make their own spaces, events, magazines, posts, films, "and anything to help share our own art and existence because no one else gives enough of a fuck to do so".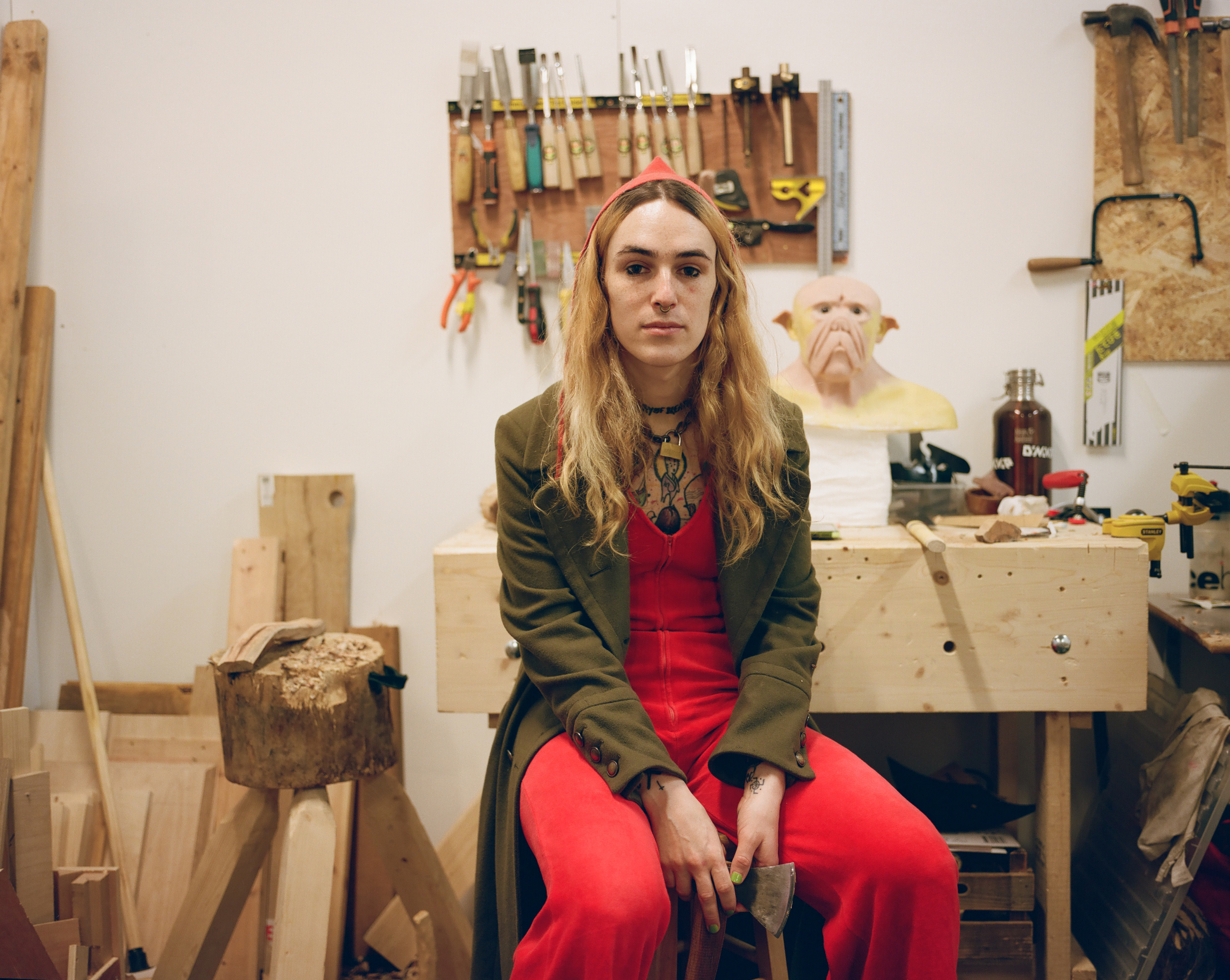 Delia Detritus (she/her), artist, woodcarver and musician 
Delia Detritus finds it difficult to summarise her multi-disciplinary work into a singular theme. She also grapples with the idea that her creations will always be "read as about transness", even if they does not explicitly reference this part of her identity. Although defining her practice is limiting, Delia says that, in its simple terms, the work is about "being alive in a world that is mostly shit".
Asked about the necessity of trans+ art, Delia points to the need for a wider inclusion of trans+ people in art production. "Artists are workers, and the inclusion of trans artists in the working narrative of the art world is of equal importance to art as a communication tool." In the future, she hopes for inclusion not based on identity, but one that is "incidental" in which anyone's output is viewed "with a more broad lens that allows our integration into any art space".
Delia questions the practicality of visibility when trans+ people do not possess safety, noting that, "If it is done without a proper framework, the results can be uncomfortable for those we are trying to support." Despite this complicated relationship with visibility, Delia still considers it vital for the people who follow behind. "It is essential for the next generation of trans kids that we carve out as many varied routes through the world as possible."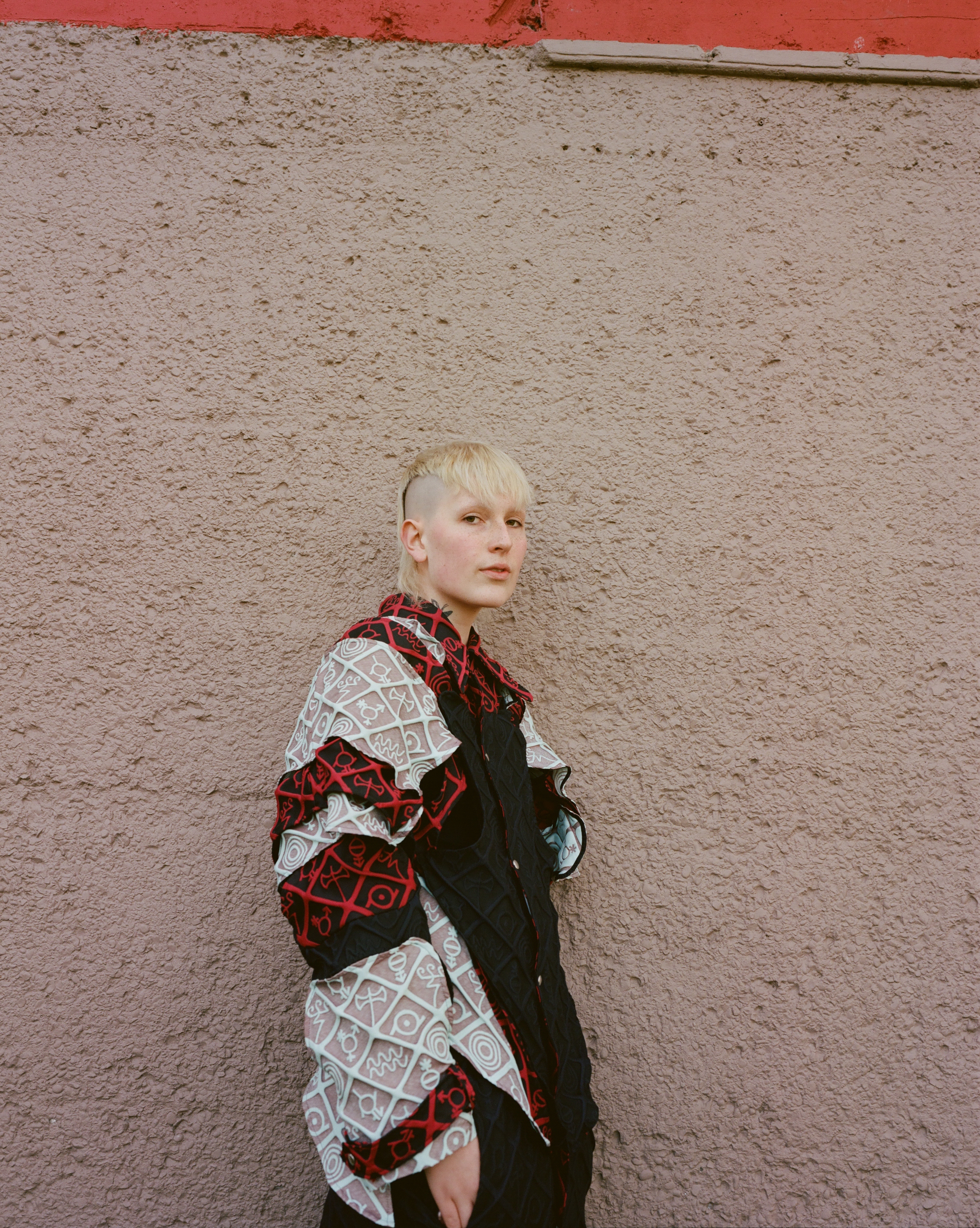 Luca Wowczyna (they/them), stylist and creative director
Stylist and creative director Luca Wowczyna's work is all about making connections, something they have struggled with in their younger years. Through their art, they want people to "be able to feel some sort of connection to their younger self through an artistic medium," Luca says, "as it's something that helped me understand myself so, so much."
Trans+ art for Luca is vital because it helps everyone expand their minds. "Trans+ art brings a new perspective and way of thinking which is difficult to see for non-trans+ people," they say, mentioning the power trans+ people have to create art through trauma: "When these unique emotions are brought into form, it can make for something ineffable to many."
"We should always be visible, but Transgender Day of Visibility is so important to highlight issues surrounding safety and the lack of help from the government," they say, stressing that no matter what day it is, their identity "shouldn't change the value of what I create."
Credits
---
Photography Heather Glazzard